Library Student Resource Group January 24 2013
Present: Adreanne Breton, Darrel Chia, Allison Demes, Evan Kuehn, Christina McClernon, Wilson Miu, Yiwei She, Julia Sizek, Zhui Wang
From the Library:Judi Nadler (chair), Rebecca Starkey, James Vaughan, Rachel Rosenberg
Guests: David Bottorff (room reservations), Elizabeth Beers (assessment)
Room Reservation Pilot
David Bottorff introduced the Library's room reservation system, which we are piloting during Winter and Spring Quarters. Users can visit rooms.lib.uchicago.edu to book one of the group study rooms in Regenstein or Crerar. Library classrooms may also be booked on evenings and weekends using this system. Rooms may be booked for up to 2 hours at a time by current University of Chicago students, faculty, and staff.
To book a room, use the system to place a request. A confirmation will be sent via email to the requestor -- the email must be confirmed/replied within 30 minutes to secure the reservation.
LSRG members had the following questions and comments:
What happens if the reservation isn't confirmed? (The system will show the room as booked for 30 minutes, until the confirmation expires -- the room then reverts to "free" in the system.)
What if there is a conflict, or there are people already in the room when a group with a reservation arrives?


We rely on self-policing, and hope individuals without reservations will vacate for those who do.
Groups are expected to bring their email confirmation as proof of their reservation.
Circulation staff are the point of contact if someone is needed to referee a dispute.

What happens if a group is late for their reservation? (We have a 10-minute grace period by policy.)
Are the room use policies clearly posted? (Yes -- both on the website and in each room itself.)
How do you plan to deal with overcrowding issues, e.g., during finals?

This is the first quarter of the pilot, so we are looking forward to seeing what usage is like during 10th week and finals.
We did a seating survey during reading period and finals of Winter Quarter 2012; although the rooms were full, we had available seats in the Library (though seats with power outlets were not always available).

The instructions on how to use the system seem a little unclear.
Will Law School students use Regenstein or Crerar more often, now that they can reserve rooms there?


Not necessarily, said Christina; It's helpful to know Regenstein/Crerar rooms might be available for booking, but many Law students have their own carrel at D'Angelo and/or live outside Hyde Park (so study elsewhere).

Could the room reservation system be more explicitly limited to class-related groups, perhaps through Chalk? It seems like RSOs, for example, are already starting to take advantage of the system.


Tying the system into Chalk gets logistically complicated.
The rooms are intended for group study generally -- the Library would like to avoid making decisions based on type of use (academic vs non-academic).

Often "groups" seem to occupy a room not for actual collaboration, but so that several friends can individually study in the same room.
Is the time limit (2 hours) OK?


Adequate for some purposes, said LSRG members -- meetings for actual group projects probably don't last more than 2 hours. For long periods of studying, 2 hours is insufficient but users will probably "serially book" (other members in the group reserving subsequent 2-hour blocks)
Assessment Activities at the Library
The Library has had an established assessment program for several years. Since April 2012 Elizabeth has been serving as Assessment Librarian, working with other Library staff to assess Library programs and services. Broadly speaking, Elizabeth helps the Library understand what it should be doing and how we can move forward. Elizabeth chairs the Library's Assessment Project Team and the Library's User Experience Group, which evaluates the usability of the Library website and other Library virtual offerings. Other Library assessment projects include annual statistical data (such as the number of books checked out) and our annual survey of Library patrons (this year we're doing faculty).
Light Occupancy Sensors in the Regenstein Bookstacks
One current assessment project involves occupancy sensors for lights in the JRL bookstacks. Currently the bookstack lights are grouped in "blocks" and controlled by light switches spaced roughly 10 aisles apart. The lights are on 15-minute timers. University Facilities would like to install motion sensors in each aisle and rewire the lights, so that (1) only the lights in a specific aisle would turn on and (2) the lights would only stay on when someone was active in the aisle.
What's a reasonable time for the lights to stay on? We don't want to inconvenience users, but we also want to save energy (the impetus for this project). We're gathering feedback because the sensors, once programmed, are de facto permanently set. Adjusting the timing subsequently would mean a very labor-intensive process of re-programming each sensor, so we'd like to get it right the first time.
Most LSRG members thought a 5-minute light period was sufficient (with a minority voting for a longer period). This 5-minute period assumes the motion sensors only require a reasonable amount of motion for the lights to come back on (e.g., a hand wave or moving around a little bit).
Other comments by the LSRG:
How much movement is needed to trigger the sensor? (David noted that small movements, like turning pages, wouldn't be enough for the sensor to pick up, but larger movements like an arm wave would be sufficient.)
Is there an upper time limit (like, say, 15 minutes) that results in zero cost savings? (David didn't think so, because controlling the lights aisle-by-aisle rather than in blocks has significant projected cost savings.)
Would lights in certain aisles remain always on for navigation? (Yes, said David -- the perimeter lights and those in the "main cross aisles" would always remain on.)
Does moving around reset the timer -- so that if a patron stays in motion, the lights never turn off? (Yes.)
Is there a manual override? (No -- but the most frequent light problem isn't with the switches or sensors, but bulbs burning out, and an override wouldn't help this.)
How long do the sensors last? (They are quite sturdy. If a sensor does fail, they are designed to be easily swapped out for a working sensor.)
Does the sensor track use -- how long/how many times each day the lights are on? (Probably not, but it's an interesting idea.)
Facilities would like to move fairly quickly on this project, probably doing installation work later in Winter Quarter. The installation would be minimally disruptive, with most work occuring in the morning or early afternoon -- thus even if lights need to be off for a short time, these periods should occur during daylight hours. We will also be surveying the faculty who have studies in Regenstein about the proposed lighting change.
The Library and Facilities are also exploring installing light sensors on the B-Level. The B-Level lighting setup is different than the upper floors, so it needs to be a separate project. Instead of motion sensors, the lights would most likely be tied into the existing pressure sensors in the floor.
Paper Card Catalog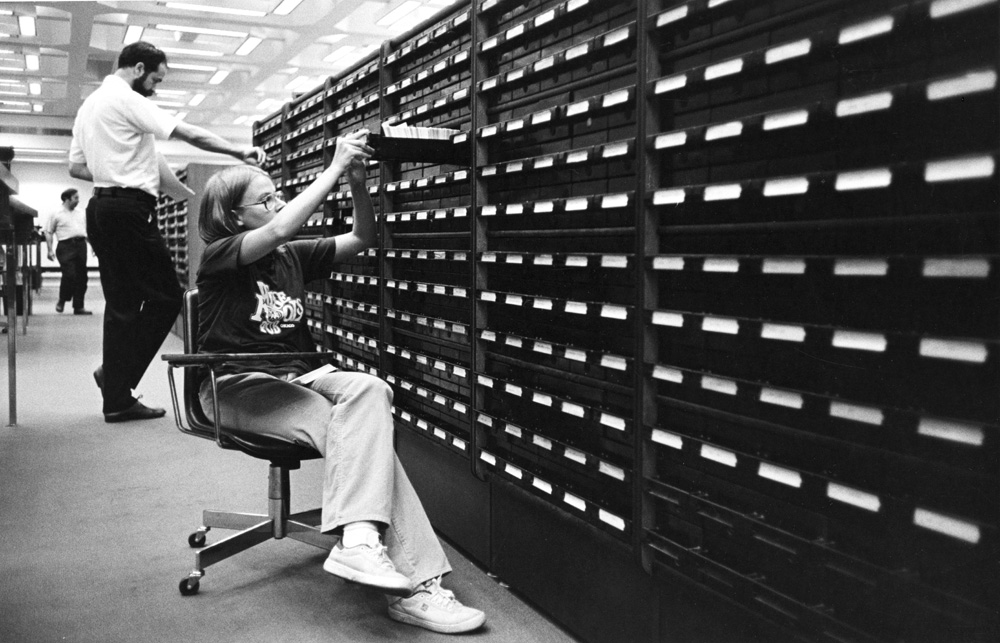 The card catalog, currently housed around the perimeter of B-Level, was the predecessor of the online catalog. No new cards have been filed in the catalog since 1989. For several years the catalog continued to be used while the Library did "retrospective conversion" -- creating records in the online catalog to reproduce information on the paper card. Retrospective conversion was completed in the late 90s/early 2000s, and at this time the catalog was moved from the first floor down to the B-Level. The data files searched by HIP/Lens now are our "catalog of record," the canonical source of information about the Library's holdings. While a few patrons infrequently access the card catalog, the only system-wide use of the catalog is to resolve the occasional error/inaccuracy introduced to our online records during the retrospective conversion process.
We are considering discarding the card catalog, because (1) we'd like to put study tables or carrels around the perimeter of B-Level to facilitate easy consultation of the collections, and (2) we need to move the catalog trays to do maintenance work on the flooring below. We would keep a subset of the cards in Special Collections for archival purposes. The smaller card catalogs stored on the upper floors of Regenstein, are not part of this discussion.
Has anyone in the LSRG used the card catalog? Would you miss it if it went away? LSRG members have occasionally thumbed through the catalog, but never seriously used it.
Discussing the card catalog led to some general comments about the B-Level: a good floor for quiet, intensive work, said LSRG members. Could B-Level be a designated "deep quiet" floor? It's hard to study on the first floor because it's so loud -- for quiet study we prefer the upper floors or the B-Level.
Regenstein Bookstacks Alcoves: Converting to Writer's Carrels
The upper floor bookstacks in Regenstein contain consultation tables, installed in alcoves around the perimeter of the bookstacks. The Library is considering converting some or all of these tables into assigned writing carrels. Modest architectural improvements would be made to each desk: there would be task lights, a shelf, possibly a small locker for personal items, and other improvements. The desks would not be locked or enclosed.
Graduate students and undergraduates writing theses and dissertations would be eligible to request a carrel reservation -- if demand exceeded the number of available carrels, the Library would hold a lottery. It's likely that multiple students would be assigned to each carrel space (up to 3 per carrel), with the carrel occupants responsible for working out how to share the space. We're still evaluating how much space would be needed for a shelf and/or locker, the optimal rental period, and what other modifications to make.
Carrel occupants could charge material to their carrel, with the expectation that these books would be left on the carrel's shelf (and thus available for other users). These books would be charged but not deactivated in the Library's theft-detection system, so they couldn't be taken out of Regenstein. Carrel books picked up elsewhere in Regenstein (e.g., on a table someplace) would be routed back to the carrel by the Library's Stacks Management department.
Any feedback from the LSRG?
How about assigning carrels by department? E.g., Sociology has X carrels -- then the Sociology students figure out among themselves how to share the desks.
Could there be doors that lock the entire shelf space? (Yes, but we'd like other patrons to see what material is held in the carrel.)
It seems very strange to let other users peruse books charged out to a carrel.


There are open carrels in D'Angelo, and people don't remove material in the carrels, but we would need to establish this "cultural norm."
If someone else picks up a carrel book, and leaves it on a reshelving shelf, it will take a day or two to make its way back...and in the meantime, be unavailable for the carrel user.

Publicize (maybe by table tents) that the carrel is reserved, so that casual patrons don't assume this is open seating.
When a book is charged out to a carrel, would it display differently in the catalog? Or would it still just say "checked out, may be recalled"? (Probably the latter.)
Could there be a shorter "finishing-up" period for recalled carrel books? E.g., books recalled from a carrel would be due in 3 days instead of a week.


Could circulation retrieve items from a carrel for short-term perusal? (Treat the items as if they were on 2-hour reserve.)
Books in heavy use by a carrel occupant would (presumably) be checked out on that user's personal account, not the carrel account.

Will there still be space in the bookstacks for non-carrel/casual patrons?
We're hoping the architects we are working with on this project will have a prototype on display in late Spring for evaluation and feedback.
Next Meeting and Future Topics
Our next LSRG meeting will be joint with the IT Services student advisory group, and will be held downstairs in room A-11 on Wednesday, February 20.
Please send Rebecca any suggestions for future topic ideas. If you have suggestions, or further comments on any topic discussed today, feedback can be sent to our list: lsrg@lib.