Using the Map Collection
The Map Collection is open Monday through Friday from 1:00 to 5:00 PM to UChicago students, faculty, and staff. They may also request map scans by using Scan and Deliver:
Find a map in the collection in the Library Catalog.
Select the Scan and Deliver link at the bottom of the map's catalog entry.
Submit the Scan and Deliver request to receive a high resolution scan of the map.
To request access to maps for classes, please email the GIS & Maps Librarian.
Patrons that are not affiliated with the university may request maps through the interlibrary loan services at their local libraries.
Tips for finding maps in the Library Catalog
Maps in the collection are found by searching the Library Catalog. Map catalog records include: title, author, subject headings, and a description of the map.
A simple search involves searching for a place name in the catalog search bar, then filtering by Format (choose "Map") and Year of Publication. See the tips below on advanced searching:
Map records often include scale in the form of a ratio. Urban maps have scales in the range of 1:1,000 (which would include building footprints) to 1:50,000. Regional maps scales are between 1:50,000 and 1:1,000,000.


Map subject headings are structured like most Library of Congress subject headings, but usually end with "Maps" or "Aerial views," or something similar.

Examples of map subject headings:
Chicago (Ill.)—Maps.
Ethnology—Illinois—Chicago—Maps.
Chicago (Ill.)—Population—Maps.


Most maps belong to topographic sets. We use index maps to indicate which maps of a topographic set are in the Collection. The best maps for small areas are often found in one of the Collection's large sets, which will have a subject heading only for the larger geographic unit.


"Authors" of maps are often government agencies or commercial firms, and these bodies are listed in catalogs in a distinctive, consistent, "controlled" form, like "Geological Survey (U.S.)" and "Rand McNally & Company."


Map call numbers are structured to indicate geography, theme, and date of situation:



The root call number always refers to a place. For example, maps of Chicago start with G4104.C6.
Letters are added for thematic maps (for example, E1 for ethnicity, P3 for railroads).
Map call numbers normally have a "date of situation" and a main entry "Cutter" as well. Examples of correct map call numbers are:

G4104.C6E1 2000 .U5 [ethnic map of Chicago for the year 2000, whose author's name starts with U]
G4100 1851 .P4 [1851 map of Illinois, whose author's name starts with P]



Using the root of a call number, you may browse the catalog for maps that match those geographies and themes.



At the top of the catalog search results page, select Browse and input a root call number into the search field. Make sure to select Call Number in the dropdown box.
If you have a particular map of interest, you may also do a Browse search to find maps that are located nearby which may be of similar geography and theme.



You will find that records from different time periods look quite different. But subject headings, author headings, and call numbers are typically kept up-to-date.


Most of any big library's maps are found in books and journal articles and are not cataloged separately. Subject searches, either in library catalogs or in journal indexes, can be very productive.


A portion of the Map Collection is available online through our Digital Collections. When doing a catalog search, maps that are available online can be found by including the E-Resource format filter in addition to the Map format. Other digital map collections can be found in our Finding Maps Online Guide.
If you need a map that is not owned by the Library, you may request map scans through Interlibrary Loan. Search WorldCat (OCLC) to find out what other institutions hold.
Featured Collection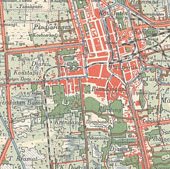 Asian Cities - Late 19th- and early 20th-century maps
View all collections