Jee-Young Park
Korean Studies Librarian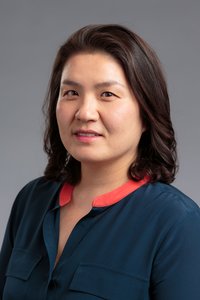 Library Profile
Jee-Young Park is responsible for developing and maintaining the Korean Studies collection. She also provides public services to support the teaching and research needs of the faculty and students at the University of Chicago. Jee-Young serves as the Korean studies liaison between the Department of East Asian Languages and Civilizations and the Center for East Asian Studies. Currently she is an executive member of the Council on East Asian Libraries (CEAL) and a member of the Committee on Korean Studies (CKM).
Jee-Young is a graduate of the San Jose State University School of Library and Information Science and the University of California, Berkeley, where she earned her Bachelor of Arts degree in Japanese Language and Culture. Prior to joining the University of Chicago Library, Jee-Young was a Korean cataloging librarian at the C.V. Starr East Asian Library at Columbia University.
---
Library Projects

Bibliography of East Asian Periodicals, Colonial Korea 1900-1945
The current on-going project will identify and compile East Asian periodicals of colonial Korea from 1900 to 1945 into a comprehensive bibliography. Through data compilation, organization and research, the bibliography will outline each journal's identifying information, including region of origin, bibliographic details of publication, regions of distribution, and current accessibility status. Additionally through textual interpretation, the bibliography will provide commentary on the symbolic meaning of these texts. This project has won a Provost's Global Faculty Award for FY22.

2,000 North Korean stamps acquired from China and Germany in 2019 have been digitized and accompanied by a wide range of in-depth data to form the digital collection. Compiled from 19 stamp books and 30 individual sheets, the North Korean Stamp Collection spans more than five decades, from 1962 to 2017, and covers a variety of subject areas. The processes of digitization, in-depth meta development, and Luna database collection management were all completed in cooperation with the Visual Resources Center (VRC).
(UChicago affiliates only)
Expanding its role from traditional library acquisitions, this project executed in-house in-depth meta-development with other peer institutions and archival digitization in cooperation with other departments. Minsokwon, the Korean publisher, provided us with over 8,000 raw images accompanied by basic Korean-only meta-information. Korean Studies Librarians at 7 different academic institutions developed Korean Romanization and English keyword search terms. The Library and Visual Resources Center (VRC) cooperated to upload the images with their corresponding meta-information to the online archival system, LUNA.