Jesse Lambertson
Metadata and Digital Resources Librarian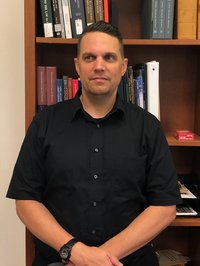 Jesse came to The University of Chicago, D'Angelo Law Library - from Washington, DC, where he managed metadata and cataloging workflows at Georgetown Law Library. Before that, he was the Librarian at the Sultan Qaboos Cultural Center (the educational wing of the Sultanate of the Embassy of Oman).
He received his Library and Information Science degree from University of Illinois (Champaign/Urbana), MA in English (with focus on theory) from University of North Carolina-Wilmington, and a BA in History from North Carolina State University.
Personal thoughts: Yes, metadata is important, but so is music (guitar playing), mostly vegetarian eating, and cycling.
Library & Department
Subject Specialties