Kamilah Wentworth
Data Management Assistant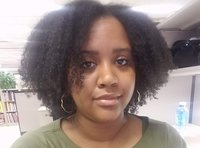 Kamilah joined the University of Chicago's Regenstein Library January 2019 as the Data Management Assistant.
She works with the Natasha Sharp and Christie Thomas, Head of Data Management Services.
Snapshot
Kamilah Wentworth is a graduate from Dominican University with an MLIS. Her core coursework is focused in Academic and Digital Libraries. She is highly trained and educated in collection management, information storage and retrieval, special collections and archives, library user instruction and reference, as well as electronic materials (digital and born digital materials) and metadata.

Kamilah also holds a Bachelor's of Liberal Arts in History, with a minor in Political Science, and another minor in Spanish.
Institutions
Degrees
Obtained
Dominican University
Master's of Library & Information Sciences
2015
University of Illinois at Urbana-Champaign
Bachelor's of Liberal Arts
History Major / Political Science & Spanish Minors
2011
Prior Library Experience
Pritzker Military Museum & Library
Cataloging Internship Spring 2018
Collection Management Fall 2017
Chicago History Museum
EAD Finding Aids Internship Summer 2016
University of Illinois Grainger Engineering Library
Student Circulation Clerk 2008-2011
Data Management Services
The DMS Team focuses on uniforming records and data in the Library Catalog.
The DMS ensures records are being updated and kept up to the ever changing library standards.
Tasks the DMS Team handles:
Batch loading of bibliographic and acquisitions data
Batch transformations of bibliographic, holdings, item, and eholdings data
Bibliographic data enrichment projects (updating access point labels and adding URI identifiers to access points, RDA elements, etc.)
Data normalization activities for more uniform display and discovery of resources, and in preparation for migration to FOLIO
Reporting
https://loop.lib.uchicago.edu/departments/collection-services/technical-services/data-management-services/
View CV