Kathy Zadrozny
(she/her)
Web Developer and Graphic Design Specialist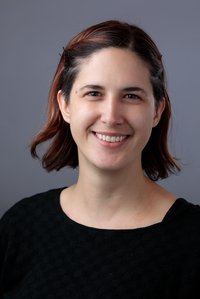 Kathy Zadrozny specializes in mobile and accessible web design. She began her design career in advertising and quickly became interested in all things code. Within the DLDC, Kathy does front-end design and coding for the Library website, web exhibits, the Library Intranet, and LibGuides. You can find her huddled in her cube getting excited about Sass functions, mumbling about analytics, or building odd UX testing rigs.
Speaking Engagements
"Decoding Accessible Presentations"
Library UX Chicago: From Accessibility to Inclusion, Chicago, IL. July 27, 2018.

"Learning UX in User-Centered Reading Groups."
UXLibsIII, Glasgow, Scotland, UK. June 6, 2017.

"Using Design Fiction to Explore Near-Future User Experiences in Libraries."
Academic Library Association of Ohio, Wilmington, OH. October 28, 2016.

"Brainstorming and Prototyping Workshop."
Library UX Chicago, Chicago, IL. August 19, 2016.

"From User Testing to Prototypes: Making Observations Tangible."
Designing for Digital, Austin, TX. April 6, 2016.

"What was she pointing at when she said that?"
Library UX Chicago's Web Usability Testing Pop-Up Lab, Chicago, IL. November 10, 2015.
Publications
"Tell Impostor Syndrome to Take a Seat." In: We Can Do I.T.: Women in Library Information Technology, edited by Jenny Brandon, Sharon Ladenson, and Kelly Sattler, Library Juice Press, July 2018.
"Learning UX in User-Centered Reading Groups." In: User Experience in Libraries Yearbook 2017: stories, techniques, insights, edited by Andy Priestner, 108-116. CreateSpace Independent Publishing Platform, 2017.

Education
Master of Library & Information Science
University of Illinois | Champaign-Urbana, IL
Master of Arts, Art History
Savannah College of Art & Design | Savannah, GA
Focus in Contemporary Art & Museum Education

Bachelor of Fine Arts, Graphic Design
Savannah College of Art & Design | Savannah, GA
Graduated Magna Cum Laude