Stacie Williams
Director, Center for Digital Scholarship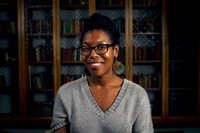 Stacie Williams is the Director of the Center for Digital Scholarship at the University of Chicago. Williams formerly managed the digital scholarship program at Case Western Reserve University's Kelvin Smith Library. She is an advisory archivist for A People's Archive of Police Violence in Cleveland and has worked at Harvard University, the University of Kentucky and the Lexington (Ky.) Public Library. She also has more than a decade of experience as a journalist, writing and editing for progressive and alternative media outlets. Her post-MLS work has largely centered around issues of labor and cultural production, access, and liberatory archives. She serves on the advisory board for the Digital Library Federation and the advisory board for Documenting the Now, which aims to create best practices around sharing social media data.
Williams is also a writer whose work has appeared in LitHub, New York magazine, Catapult, Gordon Square Review and The Rumpus. Her first book, Bizarro Worlds, a bibliomemoir about gentrification and race, is forthcoming in late fall 2018 as part of Fiction Advocate's AFTERWORDS series.
Education: Simmons College, 2011, Master of Science in Library Science, Archives Management specialization; University of Wisconsin at Madison, 2001, Bachelor of Arts in Journalism (JBA).
Publications