Apply now for winter Library graduate student fellowships
The University of Chicago Library is offering four fellowship opportunities for UChicago graduate students. The fellowships are designed to give graduate students opportunities to explore alternative scholarly careers and to build skills and knowledge in new areas of scholarship. Three Hanna Holborn Gray Graduate Student Fellowships and one John Crerar Foundation History of Science and Medicine Fellowship are currently being offered.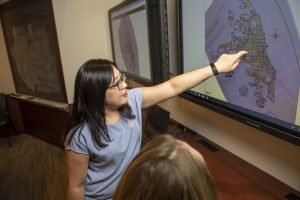 Interested graduate students are encouraged to apply by January 5, 2020, for assured consideration. Applications will be reviewed until positions are filled.
The Hanna Holborn Gray Graduate Student Fellow for Data Exploration will assist librarians with instructional programming that focuses on the introduction of data and data management concepts. They will help librarians create resources in a variety of formats, including demonstrations, workshops, tutorials, and web content, on topics such as data use, data management, data acquisition, and importing tabular data.
The Hanna Holborn Gray Graduate Student GIS Fellow for Historical Campus Maps will develop an interactive online map that allows users to explore the historical development of the University of Chicago campus. The fellow will incorporate archival and historical research into a web-based geospatial data set that will be used in university curriculum and be available to the public.
The Hanna Holborn Gray Graduate Student Fellowship for Linked Data Management is responsible for analyzing the bibliographic metadata for the library's collection and evaluating data enrichment workflows with an emphasis on how persons, other agents, and subjects are applied and managed. The fellow will work closely with the Head of Data Management Services to review current and legacy data practices around library metadata, review tools and workflows for the reconciliation and enrichment of data, and evaluate the quality of automated processes.
John Crerar Foundation History of Science and Medicine Fellowship will provide firsthand experience and broader understanding of the care and management of historically significant print collections in a large research library. In particular, the Fellow will work closely with the Librarian for the History of Science, Medicine and Technology and the Preservation Librarian, as well as with other Library staff to focus on material from the original John Crerar Library collections that were assembled before its merger with The University of Chicago.
Winter 2020 fellowships carry a stipend of $3300 for the academic quarter.  Fellowships typically involve approximately 15 hours of work per week.
For more information about individual opportunities, contact fellowships@lib.uchicago.edu.