Architect Helmut Jahn, 1940-2021, designer of the Joe and Rika Mansueto Library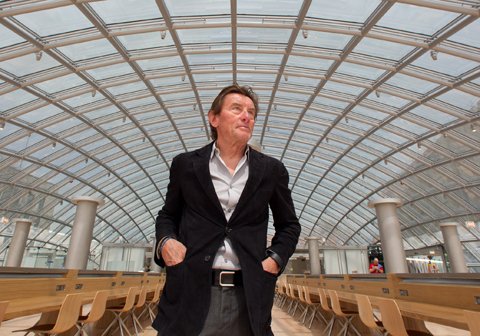 Jahn died on Saturday at age 81 from injuries sustained in an accident while cycling.
"We are deeply saddened to learn of Helmut Jahn's passing," said Brenda Johnson, Library Director and University Librarian. "His award-winning design for the Joe and Rika Mansueto Library was recognized as a vital contribution to architecture when it opened in 2011, and the Library will have a lasting impact on the generations of students, faculty, staff, and visiting researchers who continue to use this inspiring space to study, conduct research, and conserve and digitize Library collections, sharing knowledge with members of our campus community and people around the world."
The Mansueto Library opened at the heart of the University of Chicago campus in 2011. It features a soaring elliptical glass dome capping a 180-seat Grand Reading Room, state-of-the-art conservation and digitization laboratories, and an underground high-density automated storage and retrieval system. Mansueto speeds scholarly productivity by allowing for the retrieval of materials within an average time of three minutes through use of robotic cranes. It has been recognized with a Distinguished Building Citation of Merit by the American Institute of Architects' Chicago chapter and a Patron of the Year Award by the Chicago Architecture Foundation.
Helmut Jahn explains how his aesthetic choices for the Joe and Rika Mansueto Library reflect the University of Chicago's guiding ideals of inquiry and knowledge in this video.
A 360-degree video tour provides views of the Grand Reading Room, the underground automated storage and retrieval system, and the Conservation Laboratory and Digitization Laboratory.
Steve Wiesenthal, who was Associate Vice President and University Architect at the time the Mansueto Library was built, explained the surprising approach Jahn took to designing the new building. "In a paradox of contextualism, the futuristic spaceship-resembling Mansueto Library actually works as a light and airy foil to the Regenstein and as an elegant landscape object set askew both to point on axis to the Henry Moore sculpture to the north and to deflect away from Ellis Avenue to reveal the corner of Snell-Hitchcock in the Quadrangles to the south," Wiesenthal wrote.
Since its opening, Mansueto Library has become a Chicago icon that has a vital role in campus life and the scholarly mission of the University.