Belarus: Photography, Art, and the Faces of Resistance
Exhibit Dates: June 24 – September 1, 2022
Exhibit Location: The Joseph Regenstein Library, 2nd Floor Exhibit Cases, 1100 East 57th Street, Chicago, IL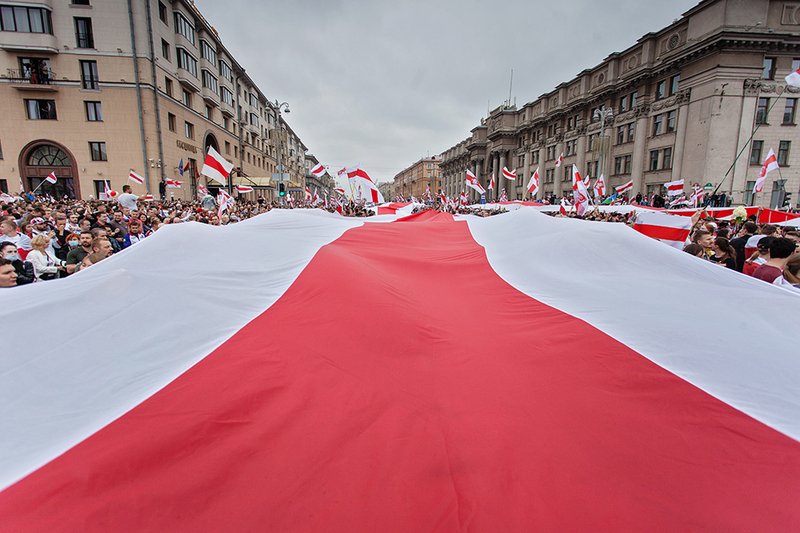 In May 2020, in the run up to the Belarusian presidential election, protests erupted that continued for ten months. These protests centered around opposition to Alexander Lukashenko's bid for a sixth term as president and the jailing and maltreatment of opposition figures. The wife of one of these figures, Sviatlana Tsikhanouskaya, registered as a candidate and declared election fraud following Lukahsenko's claim to have won with 80% of the vote.
An associated exhibition, Belarus: Faces of Resistance, hosted at Southspace Creative (1109 E 55th St, Chicago) and sponsored by the University of Chicago's Center for East European and Russian/Eurasia Studies, explores these events through the work of nine artists, photojournalists, and filmmakers. The Southspace exhibition will open to the public on June 24, 2022.
The two-case exhibit at Regenstein highlights materials from the University of Chicago Library meant to provide further context. The first case provides a brief timeline of protests and demonstrations in Belarus and highlights materials to provide context on the circumstances leading up to the 2020 demonstrations and of opposition movements in Belarus. The second focuses on the artistic and social context, highlighting art-activism, photography, and the context for how these demonstrations played out and how opposition continues to play out in Belarus through artistic means.
Curator
Megan Browndorf, Slavic and East European Studies Librarian, The University of Chicago Library
Visiting the Library
The University of Chicago Library has reopened Regenstein, Mansueto, Crerar, and Eckhart libraries to visitors—including alumni, partners of UChicago users, researchers from affiliated institutions, and visiting researchers and members of the public. In order to provide broad and safe access to the Library, visitors will be asked to provide proof of COVID-19 vaccination or a recent COVID-19 test, consistent with University policies and protocols. For more information, please visit this Access page.