Book a Room pilot for group studies begins Jan. 7
Student groups looking for a place to work together on problem sets or to cram for that daunting midterm exam should find the task a bit easier this quarter, thanks to the Library's new Book a Room system. The online system, currently in a pilot phase, allows UChicago students, faculty, and staff to view available group studies and to book a room in advance, on behalf of two or more users.
By introducing a room booking system, the Library hopes to make it easier for groups to find spaces to study and work together collaboratively, in keeping with its commitment to creating and sustaining an environment supportive of scholarship. While the Library has long offered spaces designated for collaborative work, students have reported difficulty in knowing when and where they can find an available room. The new system will make doing so a much simpler task and will, for the first time, allow groups to book a room in advance.
How it Works
Book a Room allows groups to reserve a room up to 7 days in advance for up to 2 hours per day. Groups may choose from among 16 group studies in Regenstein and 7 group studies in Crerar. In addition, Regenstein's 5 library classrooms, which are intended primarily for formal instruction, may be booked by groups outside of regular teaching hours (after 10 p.m. Monday through Friday and all day Saturday and Sunday).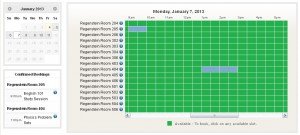 Only current UChicago students, faculty, and staff may book rooms, though other groups are welcome to use rooms on a first come, first served basis as long as the room has not been booked. Groups who have booked a room need to bring a confirmation email as proof of their booking in order to ask another group to vacate a room.
The Book a Room system is available online via any Internet browser and via mobile devices. In addition to booking rooms, users can view information about each room, including seating capacity, amenities, and location, as well as photos of the rooms and maps of their locations. Group names are also displayed, allowing users to find a room their group has already booked.
Pilot Phase
The Library is currently offering Book a Room as a pilot during Winter and Spring Quarters 2013. Library staff will review use of the system and solicit feedback from users to evaluate the service going forward.