Center for Digital Scholarship coming to Regenstein's First Floor
The University of Chicago Library will be building a new home for its Center for Digital Scholarship (CDS) on Regenstein's First Floor, reimagining much of the space between the Dissertation Office and Circulation. Renovations are expected to be completed by Winter 2021.
While this new Center will provide a focused hub for digital scholarship activity, University of Chicago Library staff are already available to provide a wide variety of workshops, consultations, and services to the University of Chicago community in areas ranging from scholarly communication and digital infrastructure to data management and data publishing. Library staff can collaborate with faculty and train students on use of data and other digital assets at every stage of the digital scholarship lifecycle. For example, faculty can: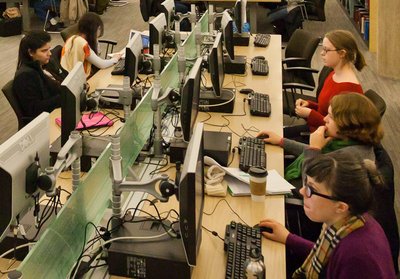 Discover
Consult with CDS librarians on which of our licensed electronic resources are optimized for textual data mining.
Explore the Library's historical map collection for use in digital humanities and geospatial projects.
Acquire/Create
Leverage acquisitions and technical service librarians' expertise to get help acquiring proprietary or customized datasets from vendors.
Consult with librarians on strategies and best practices for digitizing large-format materials for research projects.
Manage
Work with librarians on developing federally compliant data management and reproducibility plans for Department of Energy, National Science Foundation, or other federally funded grant proposals.
Analyze
Work with librarians to develop customized in-class training workshops on ArcGIS and other geolocation tools for use in class research or capstone projects.
Share
Share your research or publish open access through several digital platforms supported by the Library.
Consult with librarians on strategies for avoiding predatory journals.
Preserve
Deposit your research paper, data, or analysis code in the Library's Knowledge@UChicago repository for long-term preservation.
Work with librarians to create a data rescue or sustainability plan for older digital projects that need to be migrated from obsolete platforms or formats.
Faculty are encouraged to contact their subject specialists or the CDS at cds@lib.uchicago.edu to consult on digital scholarship.