Courses inspire student to collect, donate rare books to UChicago Library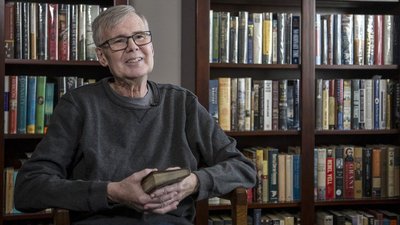 Graham School sparks 70-year-old Bob Connors' quest to find works dating to 15th century
Bob Connors flips open the heavy leather covers, thumbing past yellowed, worm-holed pages more than five centuries old. A few feet behind him, boxes pile up along the wall.
This collection of rare books started with a simple idea. As a student at the University of Chicago Graham School, Connors was reading texts considered the bedrock of Western Civilization. Why not find the oldest copies he could get his hands on?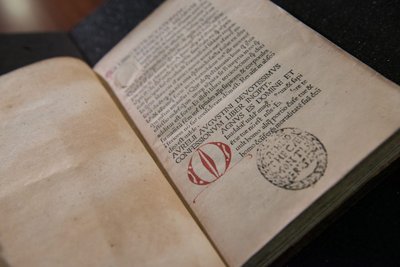 What began as a hobby for the retired tax attorney grew into a years-long odyssey—one that sent him down a rabbit hole of auctions and book dealers. Inspired by his studies, the collection of nearly 600 books is remarkable in both breadth and depth: rare editions of famous authors like James Joyce and F. Scott Fitzgerald; oversized 15th- and 16th-century volumes with original oak covers and brass clasps; and the oldest of the lot, a 1475 copy of Augustine's Confessions.
Connors is now 70 years old. Last October, he was diagnosed with cancer. He began to think: Of all his possessions, there was one set in particular worth preserving.
"I had all these books that I collected and I valued," said Connors, sitting in his suburban Oak Park home. "And I guess part of it is, at this point, I'm into legacy. What will be left behind? And I knew that if I didn't do something with these books, they would be thrown out. And I couldn't let that happen."
The name is a nod to the curriculum that nurtured in Connors a fascination with the history of the printed word. Since 1946, the Graham School of Continuing Liberal and Professional Studies has offered the Basic Program of Liberal Education for Adults to encourage reading and engaging with the "Great Books." One proponent of this approach was former UChicago President Robert Maynard Hutchins, who argued that it kept one's "intelligence on the stretch."
"Great books teach people not only how to read them," he wrote in 1952, "but also how to read all other books."
An irreplaceable collection
Elizabeth Frengel, the curator of rare books at the University of Chicago Library, had expected a small collection, perhaps around two dozen books.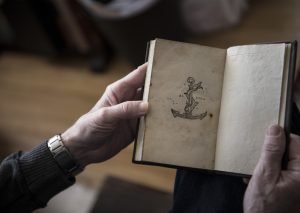 When they first met, Connors brought with him copies of classic British literature such as Thomas Hardy and George Eliot, enough to reveal he had "a good eye as a collector." Then he and Frengel started talking about the Aldine Press, an early 16th-century publisher that printed smaller, portable books that were more feasible for students and scholars to acquire. The ready accessibility of these books transformed the nature of reading—and, many argue, extended the reach of the Renaissance.
"As a group, it's irreplaceable," said Frengel, who oversees the University's approximately 340,000 volumes dating back to the 15th century. "If we weren't able to make this collection available to researchers, that would be a sad loss. You couldn't easily recapture that sort of scholarly value."
The donation included 11 "incunabula." Taken from the Latin word for "swaddling clothes," the term denotes books published in Europe between 1455 and 1501. These works, along with some 16th-century publications, illuminate the history of printing and provide insight into the evolution of the book as a material and technical object.
"The books are not going to be things that sit on a shelf and nobody really uses," said Fred Beuttler, a Graham School associate dean who was one of the first UChicago employees to see Connors' collection. "We're going to make them accessible to faculty and graduate students."
On April 9, the University will recognize Connors in a ceremony, joined by his family and members of the UChicago community.
'More fun than golf'
The books' new home represents a fitting coda to Connors' journey. While working downtown in the early 1980s, he called the University of Chicago on a whim and asked about part-time course offerings.
"It was the leading university in area," Connors said. "If I was gonna be taking classes, I might as well take it from the best."
Whoever picked up the phone pointed him to the Graham School's Basic Program. On the first day of class, Connors found out that he was entering the first part of a four-year sequence. His relationship with the Graham School would last even longer.
Connors received a certificate from the Basic Program in 1985, but the classes wore on him. A new job had taken him an hour north of downtown Chicago, and the evening commute back into the city left him struggling to stay awake during discussions.
So he took a break, focusing on his career until he approached retirement. He enrolled again in 2006, signing up for a course on the Roman historian Tacitus. The discussion-based nature of the classes, he said, prompted him to read more closely than he ever would on his own. Along the way, he picked up an interest in collecting.
"Something I thought would be more fun than golf, I guess," he said.
Connors' love for books has always been clear. Meggie, the younger of his two daughters, still remembers their nightly reading sessions—a few pages of Little House on the Prairie, or a chapter of Little Women. She doesn't consider herself a history buff, but her father's occasional spiels about his collection revealed his passion.
"He really latches on to information," she said. "Especially with these books, he could remember every single detail about them."
That impulse hasn't waned. Even now, Connors hopes not only to continue his studies, but to keep searching for books to acquire.
Frengel understands the urge. Many of Connors' oldest books contain hand-written notes in the margins, unique to each of their previous owners.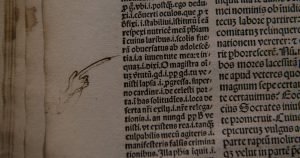 "Collecting these kinds of books give you perhaps a more insightful understanding of how culture is transmitted—how our cultural myths, our stories, our histories are passed down to us," she said. "You can probably access almost all of these texts online for nothing, because they're not copyrighted. But the material object puts you in touch with that history in an entirely new way."
Connors has compared his books to an art collection—better shared than hidden away. Though he has read translations of many, there are several that he appreciates simply as historical artifacts. They would serve little purpose locked up in someone's basement.
"They've been around for a long time," Connors said. "I'm hoping they'll be around for a good long time further when they're cared for by the University Library. They really belong there."