Crerar renovation update
The John Crerar Library's Access and Circulation Desk has reopened in its newly renovated home on the Lower Level, next to the bookstacks.  The new space houses staff and services such as circulation, Scan and Deliver, search requests, and course reserves.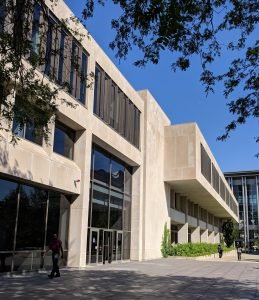 Also located on the Lower Level is a new study space that is open for University of Chicago-affiliated users, as well as approved visitors, researchers, and guests. The main quiet study space features new furniture with seating for 100 people in a beautifully lit space, with a glass wall on the east side and a window on the west side providing natural light during the day. Additionally, two group study rooms will be available for University of Chicago students, faculty, and staff to reserve via Book a Room. Each group study seats up to 8 people and features a whiteboard wall.  Just outside the quiet study space, PCs will be available for use. The PCs provide standard Library software, as well as Geographic Information System (GIS) tools. Copy/print/scan stations will be in a room just north of the quiet study space.
As we move into our new space, the area of the first floor where these services were previously located will be closed for renovation as we partner with our colleagues in Computer Science, the Humanities Division, and UChicago Arts to create additional space to support design, GIS, gaming and media arts.
Thank you for your patience as this part of the construction nears its end, and we look forward to seeing you in our new location.