Diverse Books & Open Conversations: Bedrock Faith
When: Monday, November 15, 11 a.m. – noon, or Tuesday, Nov. 16, 5–6 p.m.
Where: Online, via Zoom. Register for Monday or Tuesday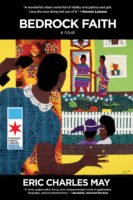 Join us for a discussion of Bedrock Faith by Eric Charles May, the sixth in the Library's series of Diverse Books & Open Conversations.
This book is the 2021 selection for Chicago Public Library's One Book, One Chicago. The publisher's website describes it as "a deeply engaging debut novel about a morality clash in an insular Chicago neighborhood." The Chicago Tribune adds, "the novel is set in the fictional South Side Chicago neighborhood of Parkland, which bears a striking resemblance to the Morgan Park area where May was raised."
Diverse Books & Open Conversations strives to enhance campus climate and build community through a shared experience, bringing together undergraduate students, graduate/professional students, faculty, staff, alumni and local community members to read the same book and engage in dialogue. We aim for this reading group to foster engagement in critical conversations around diversity and inclusion, and invite new UChicago students to build on the momentum of the Engage Chicago programming during Orientation Week by joining us.
Free and open to the public with registration
Persons who need an accommodation in order to participate in this event should contact agwenzel@uchicago.edu.
Visit the Diverse Books series page for more information.