Rescheduled—Diverse Books & Open Conversations: Deaf Republic by Ilya Kaminsky
When: May 21 2020,
Time: 4:30pm - 5:30pm
Where: Online (see registration information below)

Join us for a discussion of Deaf Republic by Ilya Kaminsky, the second in the Library's series of Diverse Books & Open Conversations.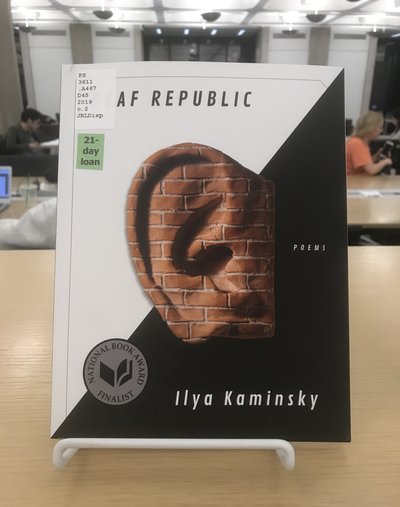 Gray Wolf Press describes the book: "Deaf Republic opens in an occupied country in a time of political unrest. When soldiers breaking up a protest kill a deaf boy, Petya, the gunshot becomes the last thing the citizens hear—all have gone deaf, and their dissent becomes coordinated by sign language. The story follows the private lives of townspeople encircled by public violence: a newly married couple, Alfonso and Sonya, expecting a child; the brash Momma Galya, instigating the insurgency from her puppet theater; and Galya's girls, heroically teaching signs by day and by night luring soldiers one by one to their deaths behind the curtain. At once a love story, an elegy, and an urgent plea—Ilya Kaminsky's long-awaited Deaf Republic confronts our time's vicious atrocities and our collective silence in the face of them."
Diverse Books & Open Conversations strives to enhance campus climate and build community through a shared experience, bringing together undergraduate students, graduate/professional students, faculty, staff, alumni and local community members to read the same book and engage in dialogue. We aim for this reading group to foster engagement in critical conversations around diversity and inclusion.
Free and open to the public
Register: https://rooms.lib.uchicago.edu/event/6462782
Persons with disabilities who need an accommodation in order to participate in this event should contact Joseph Regenstein Library at 773-702-4685.
Visit the Diverse Books series page for more information.