Diverse Books & Open Conversations — Kindred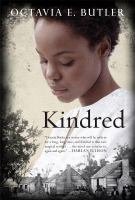 From the Octavia E. Butler Estate website : "Butler's most celebrated, critically acclaimed work tells the story of Dana, a young black woman who is suddenly and inexplicably transported from her home in 1970s California to the pre–Civil War South. As she time-travels between worlds, one in which she is a free woman and one where she is part of her own complicated familial history on a southern plantation, she becomes frighteningly entangled in the lives of Rufus, a conflicted white slaveholder and one of Dana's own ancestors, and the many people who are enslaved by him."
Diverse Books & Open Conversations strives to enhance campus climate and build community through a shared experience, bringing together undergraduate students, graduate/professional students, faculty, staff, alumni and local community members to read the same book and engage in dialogue. We aim for this reading group to foster engagement in critical conversations around diversity and inclusion.
Free and open to the public.
Persons who need an accommodation in order to participate in this event should contact agwenzel@uchicago.edu.
Visit the Diverse Books series page for more information.