Does the Library have the books for my course?
Do you want to know whether the books for your course are available at the Library? The Library recommends a few starting points for your search.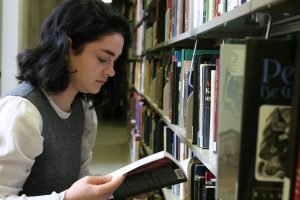 Start with Course Reserves
Log into Canvas and check under "Library Reserves" in your course to see if your books or readings are on electronic reserve.
Check the Library Catalog
After finding your assigned readings in your syllabus, check the Library Catalog to see if the Library owns copies of your course books. Below are a few tips for your search:
Use Advanced Search: Use the Library's advanced keyword search to enter title, author, publisher or other information.
Double-Check the Edition: The Library may have an older edition of a textbook. Depending on your course, this may or not work for your needs. If you are not sure, talk to your instructor.
Translations Matter: Reading a text for your Core course? Make sure you have the translation used by your instructor.  Translators will be listed as "Other Authors" in the catalog. Finding the right publisher can also be a good way of identifying the correct translation (Penguin, Oxford, University of Chicago Press, etc.).
Ebooks: Some course books may be available online through the Library. But be aware that some ebooks restrict the number of concurrent users or downloads.
Books in Special Collections: If you find a book located in the Hanna Holborn Gray Special Collections Research Center, they are not available to check out from the building, but you are welcome to request it using the link in the catalog record and read it on site.
Is the Book Already Checked Out?
If the Library Catalog record says the book is "Loaned", select "Request via Interlibrary Loan" to obtain a copy from another library. Interlibrary Loan requests normally take around a week, so place your requests early. Most items checked out on interlibrary loan can be borrowed for 12 weeks. Please note that some textbooks may not be available through this service.
Not in the Library Catalog?
Use the WorldCat database to request a copy from another library via interlibrary loan services.
Talk to Your Instructor
If you would like the Library to obtain a copy of the textbook for your course, speak to your instructor about the possibility of placing it on reserve for your course.
Still Need Help?
Get help by visiting Ask a Librarian. Text or chat live with a librarian from Monday - Friday 9:00 a.m. - 5:00 p.m. (Central). You can also email your questions and we'll get back to you the next business day.