Embedded librarians support faculty, students where they work
Many faculty and students know that they can get help from librarians through online Ask a Librarian services, or inside Crerar, D'Angelo, Eckhart, Mansueto, Regenstein, and SSA libraries.  Increasingly, librarians are also providing customized on-site research and teaching services. From hospitals to classrooms, and legal clinics to a business incubator, University of Chicago librarians are using their expertise to support faculty, students, residents, and entrepreneurs where they work.
Librarians at the Hospital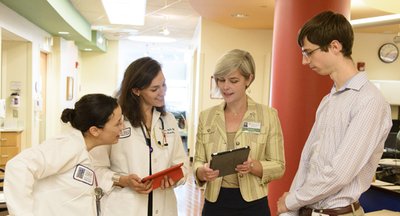 Librarian Debra Werner joins the internal medicine team at UChicago Medicine's Bernard Mitchell Hospital for patient rounds once a week, to provide research support as faculty, residents, and medical students develop a treatment plan for patients. Her iPad at the ready, she obtains rapid answers to patient-related clinical questions ranging from the side effects of pharmaceuticals to the evidence for selecting one treatment option over another for a specific patient.
Dr. Vineet Arora, Associate Professor and Assistant Dean for Scholarship and Discovery, as well as a member of the Board of the Library, is one of the attending physicians who brings Werner on rounds.   "I think that a librarian helps to promote greater awareness of the importance of clinical questions and evidence in patient care," she explained. "It also helps us to understand when there is no data—and you realize that some of medicine is informed by your intuition or gestalt and not by evidence."
Werner, who is Librarian for Science Instruction & Outreach and Biomedical Reference Librarian, is working with medical student Riley Brian and Dr. Lolita Alkureishi on a research project to assess the impact of having a biomedical reference librarian on the internal medicine and pediatrics inpatient clinical teams. They describe Werner as "a great addition to the team" and have found her research support invaluable. One study by Grefsheim et al. "showed that 97% of physicians who worked with clinical librarians would recommend working with them to other physicians," they quoted. "Having a clinical librarian on rounds once or twice a week provides a bedside resource for complicated cases, can make patients feel like they are getting the most up to date and informed care, and can help team members learn how to approach answering difficult clinical questions."
Biomedical Librarian Ricardo Andrade, who, like Werner, is based at the John Crerar Library, also goes weekly to the medical center.  At the request of Dr. Keith Ruskin and Dr. Jeffrey Apfelbaum, he provides on-site office hours for Anesthesiology physicians in the Center for Care and Discovery physician lunchroom, answering questions and raising awareness of research services he can provide.  "Being there, putting a face and a name to the Library, they can see me as their librarian," Andrade explained.  Topics he has discussed with physicians run the gamut from how they can gain access to specific titles to the future of libraries.
Andrade and Werner both take advantage of their locations on-site to make UChicago faculty and residents aware of the support they can provide to those conducting systematic literature reviews for medical journals.  As medical librarians, they can bring their research expertise to bear by working with physicians as they develop a focused question, by constructing and documenting relevant, replicable searches across multiple medical databases, and by provide citations in the style required by chosen journals.
Librarians in the Classroom
Librarians and bibliographers have long supported a wide range of classes at the University by providing one-time training sessions to students in connection with research assignments. In recent years, they have been expanding the range and depth of their support for classroom teaching by developing tailored instruction with interested faculty.
For example, Nancy Spiegel, Rebecca Starkey, and Julia Gardner have worked closely with Professors Kathleen Belew and Susan Burns from the History Department to develop assignments and teach students information literacy and more advanced research skills as part of the course Doing History, which introduces first- and second-year students to how historians do their work.
Starkey and Spiegel began by teaching research fundamentals, such as how to use subject headings in the Library Catalog, find articles, and use databases to find primary sources.  As the course progressed, they provided support for assignments that required students to use scholarly articles, evaluate historical publications, analyze the contemporary reception of events, and study world history.  In the Special Collections Research Center, Gardner, who is SCRC Head of Reader Services, led multiple sessions that allowed students to interact with early manuscript material, learn about rare book printing, and gain experience using archival collections. With the help of librarians in a wide range of specialties, students' final assignment was to develop an "archive" of historical materials exploring topics ranging from the relationship between bodegas and immigration patterns in Brooklyn to the role of historians in the making feature films.
Starkey, Librarian for College Instruction and Outreach, and Spiegel, Bibliographer for Art and Cinema and Bibliographer for History, expressed great satisfaction with the growth they have seen in students' research skills over the quarter.  Students reported in course evaluations that they ended the class feeling increased confidence in their ability to use the library and their pride in their growth as budding historians.  "Then we see them over and over again doing work for other classes" Spiegel said.  "They're really engaged with the library.  They ask good questions. They don't just stop with Google or Google Scholar, and they're a lot more independent."
Starkey encourages faculty to contact librarians to discuss the many ways they can support coursework—not only through assignments and classroom instruction, but also via online help guides and tutorials.  "We can work with you to develop students' skills over time based on the specific needs of your course," she said.
Librarians support faculty who are teaching courses in disciplines across the University and at the graduate and professional as well as the undergraduate level.  For example, Emily Treptow, Business and Economics Librarian for Instruction and Outreach, recently supported faculty in the development and teaching of two new courses: Trustee Thomas Cole's seminar for the College on Leading Complex Organizations, and Professor Stephen Fisher's Chicago Booth School of Business course Marketing and Managing Luxury.
Librarians in a Business Incubator and Legal Clinics
This summer, Business and Economics librarians Jeffry Archer, Greg Fleming, and Emily Treptow began working with colleagues at UChicago's Polsky Center for Entrepreneurship and Innovation, which helps scholars and entrepreneurs translate their ideas and new technologies into start-up businesses and products. Archer, Fleming, and Treptow go to the Polsky Exchange office on 53rd Street monthly to advise UChicago faculty, students, and staff, as well as community members, on how to access the market, industry, and product research they need to develop their business plans.
On the other side of the Midway, D'Angelo Law Library staff provide support for a wide range of legal clinics that give law students hands-on experience addressing real-world legal issues.  The Law School's Kirkland & Ellis Corporate Lab, for example, gives students the opportunity to develop practical legal and business skills through classroom instruction and work on cutting-edge projects with multinational corporations.
At the beginning of the year, D'Angelo provides a presentation on legal research process for all of the Corporate Lab students.  Then, D'Angelo librarians are assigned as liaisons to each project team, familiarize themselves with the teams' projects, and meet with the teams at the beginning of the quarter to provide research assistance.  The liaison librarians function as resources for the project teams as they work throughout the year.
"The D'Angelo law librarians (most of whom are former practicing attorneys) are key to the success of our clinical program," explains David Zarfes, Clinical Professor of Law and Director of the Corporate Lab Programs. "Certainly, they teach our students the skills necessary to research, analyze, and evaluate the accuracy, strength, and appropriateness of sources.   But their value extends beyond this. Fundamentally, the D'Angelo law librarians teach effective and innovative problem solving and communication skills that help our students navigate the path from law school to law practice."
D'Angelo librarians also work closely with other clinics, including the Young Center for Immigrant Children's Rights, the International Human Rights Clinic, the Abrams Environmental Law Clinic, and the Institute for Justice Clinic on Entrepreneurship.  Increasing the level of support D'Angelo offers to all legal clinics is an ongoing goal for D'Angelo reference staff.
UChicago faculty in all disciplines are encouraged to speak with librarians about their particular research and teaching objectives to learn how a librarian may be able to support them in their work.