Exam preparation resources at the D'Angelo Law Library
The D'Angelo Law Library provides a variety of resources to help students prepare for exams.
Past exams: Perhaps most importantly, the Library provides copies of past exams given at the Law School, in addition to model student answers and memos written by the professors where available. The exams are organized by course and faculty member. Everything we have been given permission to post is available on the Library website.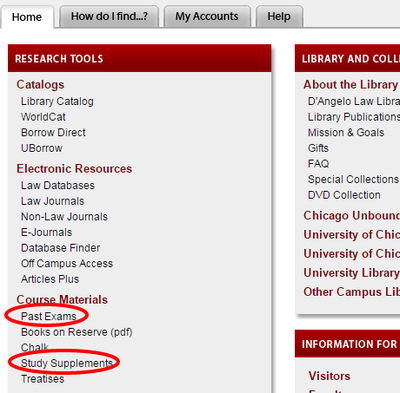 CALI Lessons: If you prefer something online or more interactive, CALI lessons might be the resource for you.  The Center for Computer-Assisted Legal Instruction (CALI) provides UofC law students with access to nearly 1,000 internet-based lessons on different legal topics. Lessons range from core 1L courses (92 lessons on property, for example) to many different upper level courses. CALI lessons are often interactive and feature questions to test your knowledge as you go through them. If you have not already registered an account with CALI, you can Ask a Law Librarian to get the authorization code for the Law School.
Student Outlines: Student outlines for various courses taught at the Law School are made available by the UChicago Law Students Association (LSA) in an online outline bank on the LSA's website. You will need to enter a password to access. If you do not have the password, Ask a Law Librarian. The Black Law Students Association (BLSA) also makes student outlines available on TWEN (requires Westlaw login and the password blsaoutlines). Older (pre-2010) outlines are available on the BLSA website. You will need to enter this information to access (username: blsaoutlines; password: student).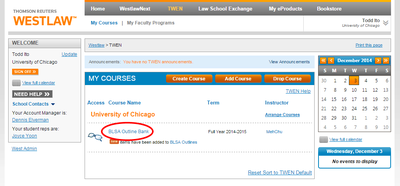 Study Rooms: If you want to meet with a study group, the D'Angelo Law Library has seven study rooms that can be reserved online: two study rooms on each of the 4th, 5th and 6th floors, and one study room on the second floor. Law students may reserve use of a study room using the Law School's room reservation system. For further assistance, see How to Reserve a Law Library Study Room.
Quiet Study Space: Quieter study spaces are available on the upper floors of the Law Library. Law School students are also able to study in any of the other libraries on campus.
Lockers: Please remember to secure your belongings when you take breaks. You can check out a locker key from the Circulation Desk. Library lockers are located in the northeast corner of the second and third floors. Two types of lockers are available: laptop lockers, which are smaller and each equipped with an electrical outlet, and bookbag lockers, which are large enough to accommodate a bookbag and/or coat.