Extended study hours in Regenstein's 1st Floor Reading Room Dec 4 - 9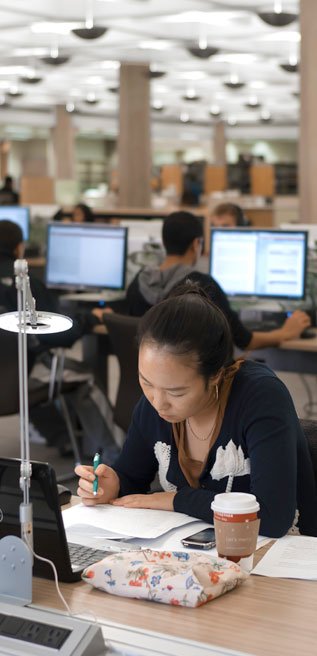 To support students studying for finals, Regenstein's 1st Floor Reading Room will remain open to current students, faculty, and staff until 2 a.m. beginning Saturday, December 4 through Thursday, December 9 (closing at 2 a.m. Friday, December 10).
All other areas of Regenstein will be inaccessible after the building closes. All other Library services and spaces will follow normal hours during this period. See Libraries & Hours for more information.
Entry to the 1st Floor Reading Room outside of building hours
To access the 1st Floor Reading Room after the building closes, use Regenstein's south entrance.
Tap your UChicago ID at the card reader by either automatic door, which will then unlock briefly.
Proceed into the lobby and tap your ID at the entry gates as usual.
Wear a mask and follow the Health Pact
Students, faculty and staff using the 1st Floor Reading Room during extended study hours are expected to follow all Library policies, as well as the current University of Chicago Health Pact, which includes wearing a face covering regardless of vaccination status.
Be prepared to show your UChicago ID to the Reading Room attendant if requested.
University transportation options
The University offers many transportation options, including nighttime shuttle service and the Lyft Ride Smart program. See Getting Around for details.