Get to know Margaret Schilt, Associate Law Librarian for User Services
As a continuation of the D'Angelo Interview Series that we began last year, Scott Vanderlin took a moment to pick the brain of Margaret Schilt, Associate Law Librarian for User Services.  Margaret gives us a glimpse at her career at the University of Chicago, her day-to-day life, and her interests outside of law librarianship.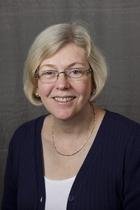 I started as an intern in January 2000. In August of that year, I was lucky enough to become the Faculty Services Librarian.
In the time you've worked in the law library, what is the most memorable event you've attended?
There have been so many memorable events. President Obama's appearance here in 2017; Geof Stone, doing a Chicago Best Ideas talk about the history of the Vietnam War and the antiwar movement in this country; and many Thursday faculty Work in Progress lunches.
What activities consume most of your time as a law librarian?
One of the best parts of my job is that it is so varied. One day I might be working on library statistics; another day advising faculty on learning management software issues; handling reference and research requests; coordinating the work of the departments I'm responsible for, teaching legal research in the Bigelow program and in the writing and research course for the L.L.M. students. Each day has its own priorities.
What are some of your interests outside of law libraries?
I am a quilter/fabric artist. The quilts I make range from small wall hangings to bed-size quilts, using traditional and modern techniques. I am also a singer – have sung in the DePaul Community Chorus for many years – and a hockey fan. I'm grateful that it's hockey season again and hope the Hawks do better this year!
What's the best thing you watched, listened to, and/or read recently?
The best things are two podcasts I have been listening to: The History of English, and the History of England. It's the only way to cope with Lake Shore Drive construction! Both are obsessively detailed (I'm barely up to Chaucer after 113 episodes in History of English) and David Crowther in the History of England has a rollicking sense of humor. Making the Plantagenets very entertaining…