Get to know Sheri Lewis, D'Angelo Law Library Director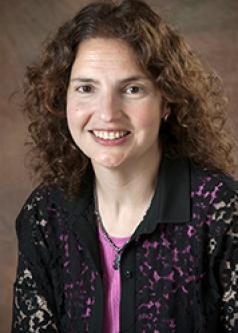 I have been a librarian at D'Angelo since September 2001. I was the Associate Law Librarian for Public Services for nearly 12 years and then moved into my current position in the summer of 2013.  I do have a prior history working here in the 1990s.  I was a student in the masters in library science (what we call MLS) degree program at Rosary College at the time. The D'Angelo librarians first gave me an opportunity to volunteer as a student intern in 1993 and then to work on a temporary project in 1994 after I completed my MLS. I had always hoped to have a permanent position at D'Angelo and was thrilled when that opportunity arose years later. It's a special place.
What is something that you wish more students knew about our law library?
Well, ideally I wish that they knew about every library service or resource that we offer. But mostly, I hope that they know that we are here to help them and always open to ways to be better at doing so.
In the time you've worked in the law library, what is the most memorable event you've attended?
Two events stand out for me. The Law School celebrated its centennial in 2002 and Professor David Currie gave an entertaining talk in the auditorium commemorating the event. (Ask one of our librarians to help you find his recitation of an original Law School cheer during these remarks!) The second event was President Barack Obama's interview with David Strauss in the Green Lounge in April 2016. Our D'Angelo Wilson Reading Room was set up for overflow, ticketed viewing of the event. Imagine having to ask Secret Service personnel to enter your own office!
What activities consume most of your time as a law library director?
Meetings! But more generally, I spend much of my time working and collaborating with colleagues at the Law School and in the University libraries. We are a unique law school library that is integrated into the campus library system. One of my responsibilities is to engage in effective relationships that ensure the smooth and successful operation of our law library.
What are some of your interests outside of law libraries?
My primary interest is spending time with my husband and two daughters, one now in college and another graduating from high school this year. I also enjoy theater, travel, cooking/baking, watching a variety of sports, and long walks along the lake.
What's the best thing you watched, listened to, and/or read recently?
I have been watching the series, The Americans, and I am now finishing the final (sixth) season (don't tell me how it ends). It resonates with me as I studied Russian in college in the 1980s and graduated from law school just a few months before the opening of the Berlin Wall in 1989.