IMLS awards UChicago Library National Leadership Grant to enhance GIS librarian workflows
The Institute of Library and Museum Services (IMLS) awarded the University of Chicago Library a National Leadership Grant to support the hosting of national forums on GIS librarianship. Organized in collaboration with the University Consortium for Geographic Information Science (UCGIS), the project—GIS Librarians for Open Workflows (GLOW)—will focus on the workflows of librarians and library staff charged with supporting geographic information systems (GIS) and its use across diverse academic disciplines. The $133,992 grant will support multiple in-person forums, workshops, and coordination of existing and new open educational resources (OERs).
Leading the project is Cecilia Smith, Director of Digital Scholarship at the UChicago Library and former GIS and Maps Librarian, in collaboration with Diana Sinton, Senior Research Fellow at the UCGIS. The Library will host exchanges with librarians around their existing consulting and instructional workflows and practices, and their development and use of open educational resources (OERs). By examining workflows, building on shared vocabularies and practices, and reviewing commonly used GIS data digital platforms, the forums will develop a community of practice that improves the quality of GIS services. The forums will focus on concrete examples from social justice, health, and infrastructure to ensure that their outcomes can be applied to identified patron needs.
"Geographic Information Systems are becoming increasingly useful to scholars across a wide range of disciplines, and libraries can play a vital role in enabling research and teaching with GIS on their own campuses and globally by developing and sharing open educational resources and open workflows," said Torsten Reimer, University Librarian and Dean of the University Library at the University of Chicago. "We appreciate the support of the Institute of Museum and Library Services, which will enable us to collaborate with colleagues to empower researchers worldwide."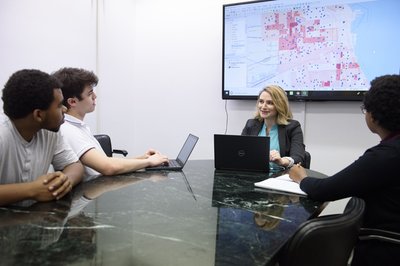 The Institute of Museum and Library Services is the primary source of federal support for the nation's libraries and museums. They advance, support, and empower America's museums, libraries, and related organizations through grantmaking, research, and policy development. The institute's vision is a nation where museums and libraries work together to transform the lives of individuals and communities.