Integrity of the Page: The Creative Process of Daniel Clowes
An exhibition at the University of Chicago Special Collections Research Center offers visitors a rare glimpse into the creative process of legendary cartoonist Daniel Clowes.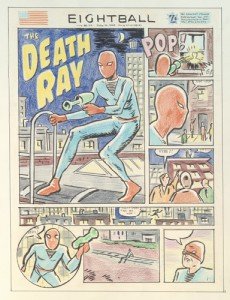 The exhibition features notes, outlines, narrative drafts, character sketches, draft layouts and more for three of Clowes' award-winning graphic novels: The Death-Ray (2011), Ice Haven (2005) and Mister Wonderful (2011).
"Integrity of the Page: The Creative Process of Daniel Clowes" opens March 28 and runs through June 17 at the Special Collections Research Center. Clowes, LAB'79, will sign his new book, Patience, and discuss his work with Daniel Raeburn, lecturer in creative nonfiction, in celebration of the opening of the exhibition on March 29 from 5 to 8 p.m. in Room 122 of the Joseph Regenstein Library.
"The exhibit pieces together these materials so that you can see the arc of Clowes' art, from his beginning ideas and notebooks all the way through to publication," said Ashley Gosselar, who curated the show.
Clowes works almost entirely by hand with paper, pencil and ink. "Integrity of the Page" highlights the physicality of his art, allowing visitors to see the detailed elements of his work—lettering, texture and facial expressions—up close.
"I couldn't be more honored and pleased, and frankly astonished, to have my archival materials included in Special Collections," Clowes said at that time. "The University of Chicago, both the physical campus and the institution, was central, almost overwhelmingly so, to my formative life, the first 18 years of which were spent three blocks away from this very site. There could be no more appropriate place for these papers to find their home."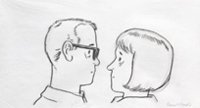 Clowes' first professional work appeared in Cracked in 1985. In 1989, he created the seminal comic book series Eightball, which ran for 23 issues through 2004 and earned him a large following and multiple industry awards.
Eightball generated several graphic novels, including Like a Velvet Glove Cast in Iron, Pussey! and Ghost World, his breakthrough hit about the last summer of a teenage friendship. The 2001 film adaptation of Ghost World, based on a script by Clowes and director Terry Zwigoff, was nominated for an Academy Award for best adapted screenplay.
Ice Haven, an intricate tale of kidnapping and alienation in a small Midwestern town, and The Death-Ray, the unlikely story of a teenage superhero in the 1970s, both appeared in Eightball before their publication in book form. Clowes' "middle-aged romance" Mister Wonderful began as a serialized comic for The New York Times Magazine and was collected in an expanded hardcover edition in 2011.
Clowes' comics, graphic novels and anthologies have been translated into more than 20 languages, and his work has been the subject of numerous international exhibitions. A major retrospective of his work debuted at the Oakland Museum of California in 2012 and traveled to the Museum of Contemporary Art in Chicago in 2013.
Clowes, has longstanding ties to the University of Chicago. Born and raised in Hyde Park, he attended the University of Chicago Laboratory Schools before moving to New York to study at the Pratt Institute. His grandfather, James Lea Cate, was a scholar of medieval history and historiography and a UChicago professor from 1930 to 1969. His stepmother, Harriet Clowes, worked in development at the University of Chicago Library from 1976 to 1980.
In 2012, Clowes participated in the "Comics: Philosophy and Practice" conference sponsored by the Richard and Mary L. Gray Center for Arts and Inquiry. That event brought together 17 world-renowned cartoonists for three days of public conversation.
The Daniel Clowes Archive adds to the University of Chicago Library's growing collection of materials related to word and image studies. The library holds an extensive collection of contemporary comics, including many comics and zines published in Chicago, as well as the Walter C. Dopierala Comic Book Collection, which contains more than 2,000 popular mid-century comic books. The library plans to add to its comics archive in the years to come.
Images and Media Contacts
Images from the exhibition included on this page are reserved for use in journalistic publications and must be first published between January 2016 and July 2016 in connection with the University of Chicago Library exhibition "Integrity of the Page: The Creative Process of Daniel Clowes," associated events, or the Daniel Clowes Archive at the University of Chicago Library. Use of the image must include the following citation: Daniel Clowes Archive, University of Chicago Library. Copyright Daniel Clowes.
For more information and high-resolution images, contact:
Mary Abowd
News Officer for Arts & Humanities
The University of Chicago
mra1@uchicago.edu
773-702-8383