Interacting with collections: A gift from John Blew
The renovated Special Collections Research Center, located in Regenstein on the pathway to Mansueto, cannot be missed by passersby. The rare materials and welcoming spaces visible through its glass doors beckon students, faculty, and visitors alike. Since its recent redesign, expansion, and upgrades, the Center is also the perfect destination for interactive and collaborative study, where researchers work to discover, study, and analyze primary sources together.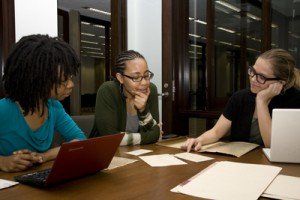 John Blew, an enthusiast of American history and a serious collector of Americana, is a longstanding friend of the Library and a champion of Special Collections. Through his generous support of Special Collections' renovation project, he has helped make possible the kind of group study space students and faculty frequently requested.
"I was delighted to support the renovation and expansion of the Special Collections Research Center, and I'm especially pleased that my contribution will enable it to host more groups of students—especially undergraduates— and will allow them to work on projects together," said Mr. Blew. "The experience of viewing and handling rare books and manuscripts in one of the SCRC's group study rooms adds a level of immediacy to a course that can be achieved in no other way."
"Introducing students to the pleasure and, often, the excitement that comes from direct exposure to these materials in physical form is especially important, I believe, in this digital age, when so much learning centers on electronic sources," he added. 
Mr. Blew's gift is a contribution to scholarship, learning, and inquiry. In recognition of his generosity, the new group study within Special Collections has been named for John Blew.