June Pachuta Farris, Bibliographer for Slavic and East European Studies, 1947-2018
June Pachuta Farris was valued and recognized by scholars and librarians throughout the world for her expertise as a bibliographer in Slavic and East European Studies and for the generosity she demonstrated throughout her decades of service to the profession.  She died on July 27 after a short illness at age 70.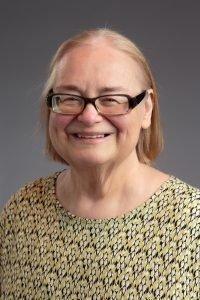 June served the University of Chicago for more than three decades, most recently holding the title of Bibliographer for Slavic and East European Studies and General Linguistics.  "We are deeply saddened by June's passing," said Brenda Johnson, Library Director and University Librarian at the University of Chicago.  "June was a dedicated librarian who built one of the finest Slavic and East European Studies collections in the world.  She was a wonderful colleague, both to us at Chicago and to the Slavic librarian community."
In 2012, the Association for Women in Slavic Studies (AWSS), an affiliate of the Association for Slavic, East European & Eurasian Studies (ASEEES), recognized June with its Outstanding Achievement Award. "The entire profession has been enriched by June's unassuming yet dedicated commitment to helping scholars wherever they work—whether formally, through her many published bibliographies on subjects as diverse as Dostoevsky and Czech and Slovak émigrés, or informally through her willingness to respond to countless queries from individuals," the Association noted.  June was widely known for her quarterly and annual "Current Bibliography on Women and Gender in Russia and Eastern Europe," which began appearing in the AWSS newsletter in 1999.  She also collaborated with Irina Livezeanu, Christine Worobec, and Mary Zirin, on a two-volume publication, Women and Gender in Central and Eastern Europe, Russia, and Eurasia: A Comprehensive Bibliography (2007), considered an invaluable resource in the field. Earlier this year, June learned that she is to be further recognized by the ASEEES at its December meeting as the 2018 recipient of the Distinguished Service Award from its Committee on Libraries and Information Resources.
June earned a BA in Russian and French from Case Western Reserve University; an MA in Russian Language and Literature from Ohio State University, writing a thesis on "The Concepts of Metaphysical Rebellion and Freedom in Dostoevsky and Camus," and an MA in Library Science from University of Denver.  She served as Slavic Reference Librarian and Assistant Professor of Library Administration at the University of Illinois, before coming to Chicago in 1986.
June spoke French, Russian, and Czech fluently and was conversant with most Slavic languages as well as Greek.  She also had a great love of musical theater and had memorized all the lyrics to a large number of shows, both old and new.
Sandra Levy, Associate Slavic Librarian, who worked closely with June for the 28 years since she was hired at Chicago in 1989, first met June even earlier, in the 1970s, when Sandra was a graduate student visiting the University of Illinois, where June was beginning her library career.  June began answering reference questions and mentoring Sandra even then.  "It's who she was," Sandra said.  "It wasn't just that she was a mentor to me—she was a mentor to everyone."  Sandra has received an outpouring of tributes from Slavic librarians who shared this experience: "June would tackle each and every reference question as if it were the most important question in the world."
Colleagues are invited to send tributes and stories about June and her impact to junefarrismemories@lib.uchicago.edu.  These will be collected, shared with June's family, and deposited in the University Archives.