Knowledge@UChicago featured work: Migration Stories: A Community Anthology, 2017
April's featured submission is Migration Stories: A Community Anthology, a collection of stories, essays, poetry, and visual works by individuals at and around the University of Chicago. Edited by Creative Writing Program faculty Rachel Cohen and Rachel DeWoskin, the anthology was produced as a part of the Migration Stories Project, an effort born in 2016 to provide a space to share and experience stories of migration and movement.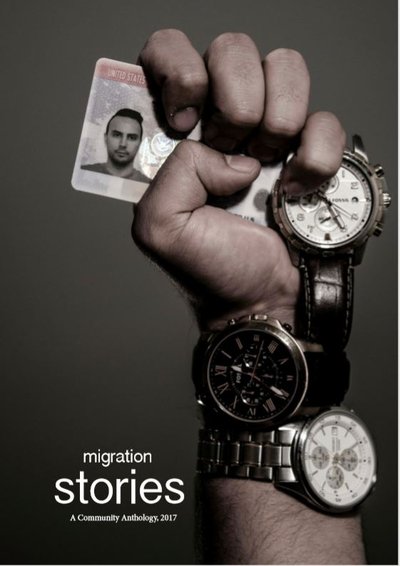 In the anthology, readers encounter contributions by University of Chicago faculty, undergraduate and graduate students, alumni, high school students in the community, and others. Cohen and DeWoskin write, "From the outset, we wanted the project to focus not on a group of people who are called 'immigrants,' but on migration, that human activity, motion, across water, land and air, that is natural to us and that comes to every life in different forms. The stories themselves are a part of these movements; they themselves move from one place to another, one person's memory to another's" (p. 9-11). Knowledge@UChicago is pleased to preserve and provide access to this important collection.
We invite University of Chicago faculty and students to share research and writing about our community in Knowledge@UChicago and to use the repository as a place to document and preserve project outputs for the long-term. Contact knowledge@lib.uchicago.edu with any questions!
---
Each month, we're highlighting an example of research shared in Knowledge@UChicago, the University's open access digital repository. By spotlighting an item shared each month, we hope to illustrate the variety of research that you can find and that UChicago researchers can make available in the repository. University researchers are invited to log in to Knowledge@UChicago and share articles, book chapters, conference materials, datasets, and other scholarly work.  See more digital scholarship news from the Library, including previous featured research on our news site.