Let knowledge grow—return your library books
Early in the pandemic, the Library encouraged borrowers to keep their Library books. We are now encouraging students to return any books they are finished reading so that the items are available for others.
Here are instructions for returning items in person or by mail.
No reservations needed to return materials at Regenstein
Current UChicago students, faculty, and staff may return items in person in the outer lobby of Regenstein without a reservation, in keeping with campus policies, during Regenstein Book Return hours.
It's easy.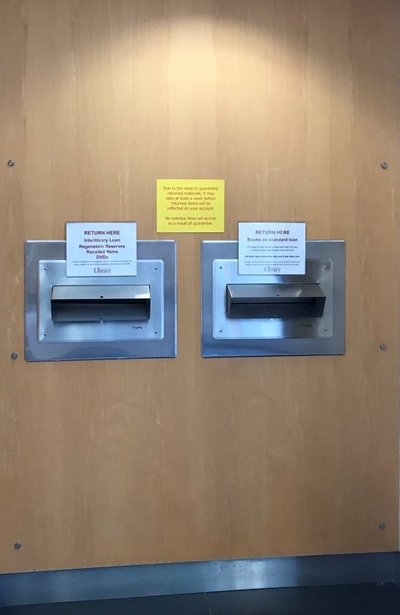 4. Exit through this door.
Optional extra step: Take a selfie in front of the Crescat scientia motto at Regenstein's entrance and share on social media with #returnyourbooks.

Upcoming return dates at D'Angelo
Law students will be able to return books at the D'Angelo Law Library beginning on May 17.
Mailing back materials
If you are unable to return Library materials in person, you may return items by mail.
The Library will pay the domestic ground shipping costs within the contiguous United States for items that need to be returned by mail due to the COVID-19 pandemic.
If you wish to take advantage of this program or to discuss any difficulties you are having returning items, please contact Circulation.