Librarians and faculty collaborate on digital scholarship
Social scientists, humanists, and business faculty work with Library experts
Social scientists, humanists, and business faculty across the University of Chicago campus are rapidly adopting and inventing new digital tools and techniques. Whether they seek to analyze 19th-century American manufacturing, the ruins of the ancient walled city of Sam'al, or the transmission history of Hamlet, UChicago scholars and students are employing new digital approaches to gathering, analyzing, preserving and sharing their data and scholarly findings. As they do so, Library staff members with expertise in everything from digitization to GIS to digital data curation and archiving are developing innovative ways to collaborate with faculty to advance digital scholarship.
Gathering and digitizing data from the Census of Manufacturers
The U.S. Census of Manufacturers has the potential to be an internationally recognized resource, Professor of Economics Richard Hornbeck explains—as important for academic research as the census data on individuals available currently through IPUMs and Ancestry.com. Conducted every decade from 1850 to 1900, the Census of Manufacturers gathered firm names, product types, production quantities, and values for every establishment producing more than $500 worth of manufactured goods. Census takers also collected input data on capital stock, raw materials, power source, wages, and employment. If combined into a machine-readable format in one accessible location, the complete census data would become a powerful tool for understanding 19th-century manufacturing across the United States and in specific regions.
And yet, up to this point, the establishment-level data has never been accessible to researchers in one location. The Census Bureau has compiled and published county-level and county-by-industry summaries, but the firm-level data has been scattered across the country in different archives, libraries, and historical societies, in formats ranging from original handwritten records to microfilmed copies. That will change for data from 1850 to 1880, thanks to a collaborative digitization effort now underway, led by Professor Hornbeck, who has enlisted a team of professional and student research assistants, as well as Sherry Byrne, Preservation Librarian; Kathleen Arthur, Head of Digitization; Emily Treptow, Business and Economics Librarian for Instruction and Outreach; and Elisabeth Long, Associate University Librarian for IT and Digital Scholarship.
The project began in 2016. Early on, Hornbeck approached Treptow, Byrne, and Arthur with questions about how to digitize microfilm, including more than 100 rolls that Vanderbilt Professor Emeritus Jeremy Atack had been storing in his basement and more than 90 rolls located at a dozen archives, libraries, and historical societies across the country from the New Hampshire State Archives to the University of Arkansas and the Center for Research Libraries.
Although Hornbeck and research professional Julius Luettge located most of the microfilm themselves, the trusted relationships that the University of Chicago Library has established with other research institutions enabled Byrne to borrow and oversee the digitization of items that would not have been released to an individual researcher.
The Library's experts have also advised on numerous matters along the way, such as how to create high-quality scans of manuscript materials and good metadata. "A project of this nature could easily be overwhelming," Hornbeck said. "It's great to have library professionals watching over this."
Other faculty members pursuing complex digitization projects like this one are invited to contact the Library to discuss the possibility of collaborating. "Researchers benefit from guidance from Library staff on strategies for organizing and executing digital project work," explained Long. "We can facilitate project components that are new to researchers." Such cooperation has left Professor Hornbeck with more time to focus on analyzing his data. He is currently working with Martin Rotemberg at NYU to examine the substantial growth in American manufacturing from 1850 to 1880 and to estimate how the expanding railroad network impacted manufacturing productivity.

Teaching GIS
Taylor Hixson describes her job as "helping anyone who is new to the field of GIS." Brought on board as the Resident Librarian for Geographic Information Systems in Fall 2016, she helps faculty and students find data sources and advises faculty on how they can organize, preserve, and share their geographic data with others: for instance, by creating metadata, by depositing data in the University's digital repository, Knowledge@UChicago; and by making data accessible through the Big Ten Academic Alliance Geoportal at geo.btaa.org.
Hixson maintains office hours in the Maps Collection in Regenstein Library, offers GIS workshops throughout the academic year, and assists individuals by appointment. She also provides customized training for students in particular classes upon faculty request.
Last year, Susan Burns, Associate Professor of Japanese History, East Asian Languages and Civilizations, and the College, contacted Hixson as she was planning the GIS components of a course on Edo/Tokyo: Society and the City in Japan. Burns's class attracted everyone from first-year College students to second-year graduate students, who entered with diverse backgrounds in Arc-GIS and historical research methods. Hixson was able to provide training for students at all levels.
After each of four class periods devoted to introducing basic Arc skills, Hixson held review sessions for students who wanted more help. She also worked individually with students on using the Esri Story Map platform for their final projects, mapping everything from schools to bathhouses to public protests. "Many students expressed to me how grateful they were for Taylor's help, and of course, I am as well," Burns said.
Hixson's first year at the Library has proven that there is demand for GIS Services from faculty and students across schools and divisions. The demonstration of this need has confirmed the Library's decision to hire a GIS and Maps Librarian who will continue to develop the Library's GIS program.
OCHRE and the Library's infrastructure for description, discovery, and archiving services
When archaeologist David Schloen and database specialist Sandra Schloen began working to create OCHRE—the Online Cultural and Historical Research Environment at the Oriental Institute—they knew they wanted to design a customized user interface to record, integrate, analyze, publish, and preserve texts from the Ancient Near East, including some of the most difficult ancient languages to model in a database environment. To fulfill their vision, they needed a partner who could provide an infrastructure that would power their project.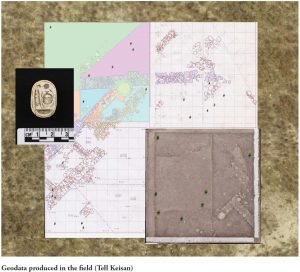 The Schloens turned to Charles Blair, Director of the Digital Library Development Center, and ever since he has led the Library team that hosts OCHRE's high-performance database system as it has grown to support roughly 30 projects in fields from philology to archaeology to history. Each has its own framework for organizing data that is tailored to the needs of the project. One project currently underway, Critical Editions for Digital Analysis and Research (CEDAR), will provide a single software environment where scholars can trace textual variants and explore the transmission of major literary traditions. Initial test cases will be the first eleven chapters of the Book of Genesis, the Sumerian copies of the Gilgamesh Epic, and the various early printings of Shakespeare's Hamlet.
Blair and a Library Unix systems administrator, Fred Seaton, maintain the OCHRE database server and advise on archival procedures for the curation of project data. "Deeply rooted in the library tradition, Charles has a watchful eye on the future and is committed to helping the OCHRE Data Service devise and implement strategies to ensure the long-term viability and accessibility of our data," said David Schloen, Professor of Near Eastern Archaeology.
"Charles and the Library are natural partners for the Schloens on the OCHRE Data Service because we all share a commitment to providing services and features that satisfy the full cycle of data management," explained Long. Blair had already led the Library team that built an infrastructure to support Library databases such as the University of Chicago Photographic Archive and the Special Collections Finding Aids, and other University projects such as the Project for American and French Research on the Treasury of the French Language (ARTFL) and a collection of digital images for teaching, LUNA.
"OCHRE was able to leverage our existing infrastructure for description, discovery, and archiving services, and we would be happy to provide the same type of service to other University of Chicago faculty and staff who have their own development teams but need an infrastructure for their interface," explained Blair.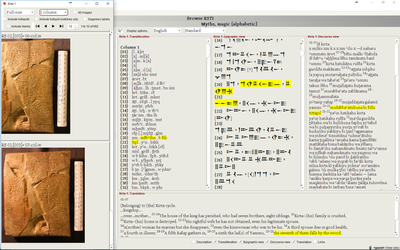 New librarians exploring new frontiers
The Library is taking numerous steps to expand its staff expertise and its work in digital scholarship in the coming months and years. Library Director and University Librarian Brenda Johnson recently announced the imminent launch of a Center for Digital Scholarship at the Library. In addition to hiring a Director for this new Center and a GIS and Maps Librarian, the Library is preparing to hire a Social Sciences Data Librarian, a Scholarly Communication Librarian, and a Biomedical Data Librarian who will increase the Library's capacity to provide innovative digital research and teaching services. The Library is also proposing with the Energy Policy Institute at UChicago to bring on board a two-year Council on Library and Information Resources Postdoctoral Fellow who would focus on building the understanding and infrastructure necessary for managing data critical to the study of energy, environmental science, and climate change.
One of the services open to UChicago faculty in every field is Knowledge@UChicago, a digital repository that preserves and shares the scholarly, creative, and administrative assets of the University. Faculty are encouraged to deposit their scholarly articles and small data sets at this time, and plans will soon be made to expand the repository's capacity when the new Scholarly Communication Librarian joins the Library. Visit knowledge.uchicago.edu for more information.