Library publishes 'Homer in Print' catalogue
Homer in Print: A Catalogue of the Bibliotheca Homerica Langiana at the University of Chicago Library, is now available for consultation or check out at the Library and for purchase from the University of Chicago Press.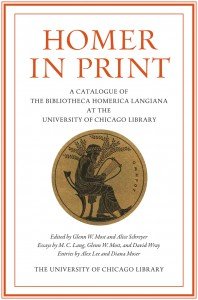 Homer in Print traces the print transmission and literary reception of the Iliad and the Odyssey from the 15th through the 20th century. Over 175 mini-essays provide new details of each included edition's textual, intellectual, and publishing history. Three long-form essays contributed by scholars Glenn W. Most and David Wray, and collector M. C. Lang,  place these editions within a wider context, exploring their role in ancient and modern philology, translation studies, and the history of printing. An extensive and strikingly illustrated testament to the power and popularity of Homer over the past 500 years, Homer in Print is an essential text for students and teachers of classics, classical reception, comparative literature, and book history. This volume, a product of new research and sharp scholarship, evidences Homer's ability to captivate the imaginations of poets, editors, and readers throughout the centuries.
Edited by Glenn W. Most and Alice Schreyer and published by the University of Chicago Library, the Homer in Print catalogue and the collection it documents provide the foundation for the upcoming exhibition Homer in Print: The Transmission and Reception of Homer's Works, on view at the Special Collections Research Center from January 13 to March 15, 2014.