Meet Holiday Vega, new Health and Social Services Librarian
Holiday Vega joined the University of Chicago on August 19th as the Health and Social Services Librarian and she works both at the Crerar Library and the Social Services Administration Library. Holiday has both a Master of Social Work from Tulane University and Master of Library and Information Science from the University of Hawaiʻi at Mānoa. She is part of the national Progressive Librarians Guild and manages their book club, and in her time at UH created a student chapter of the PLG and hosted roundtable discussions on open access, diversity and inclusion, homelessness in libraries, and other social justice topics related to librarianship.
Deb Werner, the Director of Library Research in Medical Education, interviewed Holiday about her role here at the University of Chicago and her past experience in libraries.
What were you doing before this position at the University of Chicago?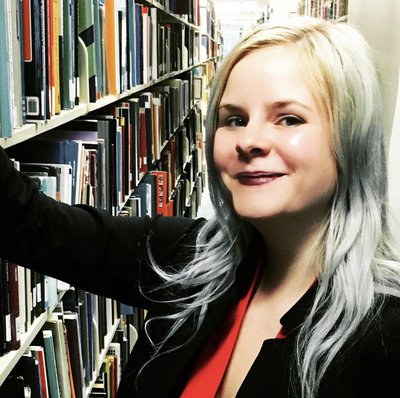 I graduated in May 2019 from the University of Hawaiʻi at Mānoa with my second Master's degree, in Library and Information Science. My first Master's is in Social Work, and my thesis research for my library degree was on the intersection of public libraries, homelessness, and social services. I helped facilitate the creation of a social work internship program at a public library in Honolulu by building a partnership between public library leadership and the Social Work school at UH. I also completed an internship with the Science and Technology reference department at the Hamilton Library at UH, where I created a new Web of Science subject guide and provided instruction support to nursing students and public health students, as well as interdisciplinary science students on information literacy, EndNote, Zotero, PubMed, and on open access resources.
How will you support students, faculty, and instructors in your role here?
My hope is to collaborate with faculty and students at every level, including collection development decisions. I will provide instruction for social work and psychology students, as well as nurses, on finding evidence based research for best practice, and I will also provide consultations for more in depth research assistance on citation management as well as data management. I'm excited about the opportunities to build partnerships between the University of Chicago and public libraries in the community, which my new supervisor, Deb Werner started through writing a grant for the All of Us program through the National Network of Librarians of Medicine. I'm also passionate about social justice, diversity and inclusion, and open access, and I aspire to contribute to the continuing transformation of the University to be more inclusive and social justice oriented by building more partnerships within the community, and encouraging faculty and students to include their published research in our institutional repository Knowledge@UChicago.
What's your favorite thing about being a health and social services librarian?
Having graduated from a social work program myself, I love that I am going to have the opportunity to support future social workers with their professional practice and research goals. I look forward to supporting the psychology students and faculty with their innovative research that will change the lives of people around the world. Social work and nursing are also health fields, though social work focuses on mental health, I believe these fields of study cultivate and even require compassion. The research conducted by these professionals will contribute to a growing collection of knowledge which, if openly accessible, can support best practice in the entire field. Research in these areas can help benefit the people served by these professions and lead to better health outcomes and greater quality of life. I'm excited to help support that by educating and empowering current and future professionals to conduct and publish research.
What are you interested in outside of libraries?
I write fiction and have been part of various writing groups for some time. I love cats (I have two!), book clubs, and video games.
What have you been reading, listening to, or watching lately?
Listen I loved this episode, but really I enjoy most episodes of this podcast (Call Your Girlfriend).