Meet Taylor Faires, new Digital Scholarship Librarian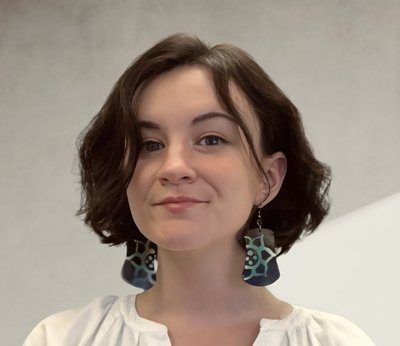 Taylor Faires joined the University of Chicago in October 2023. Taylor comes from the University of Michigan where she helped manage the Language Resource Center. She has a Master's Degree in Information Science from the University of Michigan School of Information. Prior to her time at Michigan, Taylor was a post-baccalaureate fellow at the Barnard College Digital Humanities Center, where she embarked on a digital project on identity and performance in fan communities.
Cecilia Smith, the Director of Digital Scholarship, interviewed Taylor about her role here at the University of Chicago and her past experience in libraries.
What were you doing before this position at the University of Chicago?
A large part of my position at the Language Resource Center was working with the university's foreign film collections and providing resources and education around copyright concepts such as Fair Use. I was also a member of the Open Educational Resources Committee for the University of Michigan whose mission was to increase the usage of free and low-cost materials at the university. Finally, I worked with student workers at the Language Resource Center on various projects they were passionate about, including an interactive timeline on the center's history and a statistical analysis of the LRC's services and utilization.
How will you support students, faculty, and instructors in your role here?
I hope to collaborate with members of the university community to help realize their digital projects and demystify what it means to produce Digital Scholarship. I plan to offer instruction on digital scholarship tools such as online publishing platforms, textual and statistical analysis software, and interactive timeline and map platforms. I will also be available for individual consultations on tools, projects, and digital pedagogy. I'm excited to be working with the Digital Strategies & Services Team on opening the Center for Digital Scholarship and expanding our reach across the campus!
What's your favorite thing about being a digital scholarship librarian?
I love the variety! The field is fairly new, and it doesn't really have set boundaries yet, meaning there are so many possibilities to explore. I've found that, because many of these tools are so new and the field itself is quite broad, digital scholarship work always has a fair amount of what I'd call intellectual "play." There aren't many set expectations, and because of that, the sky really is the limit when it comes to experimenting with new ideas or methods. Additionally, the front-facing nature of digital scholarship allows us an opportunity to make knowledge accessible and legible to a wider audience.
What are you interested in outside of libraries?
I'm really interested in the arts, in general, and particularly theater and music. I'm excited to take advantage of Chicago's theater scene! My favorite playwright at the moment is Sarah Ruhl.
Outside of the arts, I'm invested in doing what I can to fight climate change and advocate for sustainability, particularly as it relates to technology and the digital world. New technology like AI can be incredibly useful, but is also associated with massive energy expenditure and, therefore, should be used responsibly and conscientiously. I'm always happy to learn more or talk about sustainability in tech!
What have you been reading, listening to, or watching lately?
Reach out to Taylor at tfaires@uchicago.edu for support with your digital scholarship projects.