New collaborative learning center opens on Regenstein Library A Level
Over the summer, the Regenstein Library A Level was transformed into an inviting and attractive collaborative learning environment where students, faculty, academic technologists, and librarians can interact.  The space is now open for use.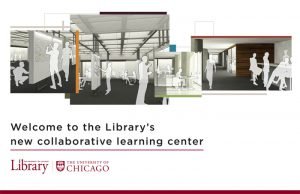 A new terrazzo floor with café-style seating has been added along the glass wall on the north side of the A Level.  This space provides users with inspiring views of the Block Garden, which was redesigned this summer.
A new vending machine is stocked with supplies such as headphones, dry erase markers, pens, post-it notes, and mini-staplers.  A beverage vending machine has also been added.  A multifunction device for copying, printing, and scanning is available.
An easy-to-operate "one button" video production studio, which will enable users to create video essays and rehearse presentations, is scheduled to be installed by the close of October.
Later this quarter, a 27-foot bar-height table equipped with convenient access to duplex power outlets will be installed just beyond the entry.  Over the December interim, additional improvements will be made to the A Level.  Seven hanging whiteboards with adjacent power outlets will be installed in the central open work zone.  Sixty lockers, which will be available for daily rental, will also be installed in one of the small rooms along the west wall.
The final phase of this project, which has yet to be scheduled, will focus on the easternmost section of the floor.  Tentative plans include a 36-person active learning classroom and a technology zone.