New report from Mintel on recreational cannabis users
The Library has subscribed to market research from Mintel for many years. These reports focus on consumer markets in the United States and have detailed demographic information on users of products such as skin care, beverages, food, restaurants and more. Their primary customers are businesses selling products in these markets. Many of these customers wanted information on cannabis users and how they might impact their markets, despite the fact that cannabis is not legal for recreational use in most states. Mintel surveyed users and potential users in states where it is legal and produced a report last fall, which is now available to UChicago users. The report is aimed at marketers, but researchers in other disciplines may be interested in the characteristics of cannabis users that Mintel identified.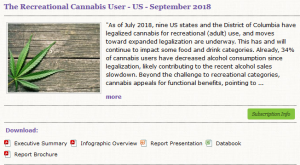 Access the report here.
You must agree to Mintel's terms of use before you can access this report. These terms are more restrictive than our other databases and do not allow downloads of entire reports or sharing outside of the University of Chicago.
Select the Databook to download an Excel file with all survey questions and responses.