Library orientations welcome you to campus
Whether you are new to the University, or returning to campus after remote learning, the Library has many ways for you to learn about its many resources and services.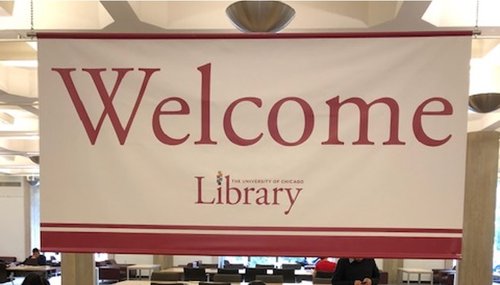 Self-Guided Orientation
View our Orientation Guide for the basics on using the Library, its resources, and services.
Enroll in our Library Orientation Canvas Course to explore our six campus libraries and improve your research skills. The course can be taken at your own pace—complete the sections you want and return as needed.
Take a video or audio tour of the Regenstein and Mansueto Libraries.
Library Webinars
Sign up for one of our upcoming webinars. All programs are offered online via Zoom:
Library [Re]Orientation
Are you a new UChicago student? Or returning to campus after studying remotely last year? Attend this virtual [re]orientation to the UChicago Library. Learn how to locate books, articles and primary sources for your assignments. Discover services such as Scan & Deliver, Interlibrary Loan, and Paging & Pickup. Finally, meet our librarians, who can help you navigate this important resource.
Crerar Science Library Orientation
Are you pre-med or considering a science major? If so, this orientation to the John Crerar Library, the science library, is for you! We'll show you what you need to know to find articles, books, and data for your classes and projects. Also, meet our science librarians prepared to help you explore the wealth of available resources.
Econ 101: An Introduction to Library Resources
If you are majoring in economics, this is a can't miss 60-minute session. Learn about the services the Library provides to aid your research, from accessing major relevant newspapers and journals (think The Economist and The Wall Street Journal) to finding economics articles and papers. An introduction to some of the best sources for economics data will also be provided.
East Asian Collection Orientations
Meet your librarians virtually and learn about Library resources in Chinese, Japanese and Korean.
Chinese Studies - October 14, 3:00 p.m. Central
Contact Jiaxun Wu, Chinese Studies Librarian to register or arrange for a different session
Korean Studies - October 6, 10:00 a.m. Central
Contact Jee-Young Park, Korean Studies Librarian to register or arrange for a different session
Japanese Studies - By Appointment
Contact Ayako Yoshimura, Japanese Studies Librarian to schedule an individual or group session
Department or Program-Specific Orientations
The Library is also offering orientations for students in various graduate programs. Led by the Library's subject librarians, these programs are designed to provide an overview of research collections and tools for specific fields, along with general library information. Graduate students should check their departments' orientation schedule for the Library orientation for their program.
Need Specialized Assistance?
Missed your orientation program, or need one-on-one assistance? Schedule an appointment with one of our many Library Experts.