PhD student interns gain new perspectives at the Library
When the call went out for summer internship ideas for the University of Chicago's Graduate Global Impact program, librarians on campus recognized a dual opportunity. PhD students could develop new perspectives on scholarship by working with librarians on important projects, while the work they accomplished could enhance the Library's offerings for its many users.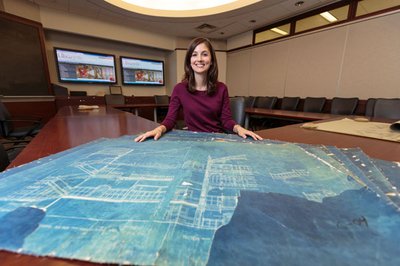 Four interns—Rafadi Hakim, Ellen Ambrosone, Marco Torres, and Eric Phillips—were hired for summer 2015. Through their internships, they gained new insights into the local and global impact of librarianship and scholarship.
The skills these interns developed in the Library can help them in a wide range of environments in the future. "The primary objective of the internship program is to provide graduate students with flexible training that can help them prepare for careers in academia, nonprofits, government, and industry," said A-J Aronstein, Associate Director of Graduate Career Development and Employer Relations. "The kind of skills that one develops in the Library—including digital skills, coding, and archival research—are just as vital for jobs on the tenure track as they are for jobs in other fields."
Digital South Asia Library Intern Rafadi Hakim
A PhD student in Anthropology, Rafadi Hakim, was hired to help expand and enhance the presentation of data and texts in the Digital South Asia Library (DSAL). His projects ranged from writing a grant application with librarians to adding digital facsimiles to the DSAL website.
Hakim jumped at the chance to be involved in the digital humanities. "Sometimes as a student, I feel I'm spending so much time fine tuning small parts of my own paper for just a few people," he said. But, when working on the DSAL, he explained, "It's not just about this exclusive circle. It's massively helpful to people in different countries." His work this summer required thinking about how to best serve students, scholars, and others with varying degrees of fluency in South Asian languages and varying amounts of Internet bandwidth.
Hakim also appreciates the new perspectives on scholarship that he gained from working with James Nye, Bibliographer for Southern Asia, and Laura Ring, Cataloger and Assistant South Asia Librarian.   "It's nice to get some mentoring from people in addition to the faculty in your own department," he said.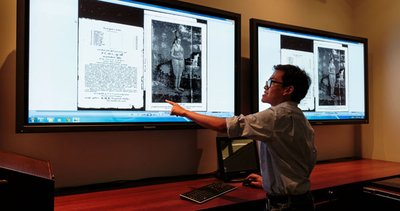 Special Collections Intern Ellen Ambrosone
Over the last several years in particular, Special Collections has received an enormous influx of architectural drawings. "They're hanging on racks; they're in drawers; they're in archival boxes," said Kathleen Feeney, Head of Archives Processing and Digital Access. "Our best estimate is that there are 117,000 of them. We know we have them from the entire history of the University, from landscape drawings to electrical plans, but when we hired Ellen, we didn't have a strong inventory."
Ambrosone, a PhD candidate in South Asian Languages and Civilizations, welcomed the opportunity to participate in the first phase of a multi-year project to preserve and make these drawings accessible. She began the compilation of an inventory of the drawings, so that researchers can more readily understand what is available.
Processing Archivist Ashley Locke Gosselar, who helped to direct Ambrosone's work on the project, emphasized its importance. "Our campus—and the city at large—is renowned for its architecture. What Ellen is doing is helping to preserve that legacy."
Ambrosone expects to use the skills she developed in her own work, and to share her knowledge with others. "Having a working knowledge of archiving and processing the collection makes me a more well-rounded scholar," she said. "I'm thinking about how I can incorporate this experience into my teaching to show students how the work scholars do is often built on work done by library professionals."
Citation Analysis Intern Marco Torres
History PhD candidate Marco Torres joined the Library this summer to analyze citations used in recent UChicago Latin American studies dissertations. "One of the goals of the project is to help us make decisions about what resources should be purchased in the future based on the type of materials PhD students are using," explained Ellen Bryan, Reference Librarian and Head of the Dissertation Office.
Torres's own dissertation proposal was approved shortly before his internship began. He plans to go to Mexico City to do research on the labor movement in the late 1930s and its role in Mexican politics. He particularly valued the opportunity to discover the kinds of sources recent graduates used in studying Mexico.
"A lot of what we do as scholars is to look at bibliographies and see patterns in them," Torres said. "Getting that recent bibliography is not so easy, sometimes." One unexpected trend he observed was that recent political science bibliographies cite trade publications outside the social sciences, in fields such as medicine.
ACASA Intern Eric Phillips
History PhD student Eric Phillips first met June Farris, the Library's Bibliographer for Slavic, East European & Eurasian Studies, when consulting the Library's Archives of Czechs & Slovaks Abroad (ACASA) for a seminar paper on the transformation of Pressburg into Bratislava, the capital of the Slovak half of newly independent Czechoslovakia in post-World War I Europe. He is studying the Czech language and preparing to write his dissertation on the economic history of interwar Czechoslovakia and Austria.
Farris mentioned to Phillips some time ago that ACASA needed to be reorganized. New materials were waiting to be integrated into the original schema devised by early collector Zdenek Hruban, and old materials needed to be rehoused to make room for them. During his internship, Phillips immersed himself in this project. He was delighted to be the first to go through Professor Hruban's papers and fascinated to see a copy of the Nuremberg testimony of Petr Zenkl, a mayor of Prague, who was sent by the Nazis to Buchenwald concentration camp.
"For the last two summers, I've been going to the archives in Prague and trying to navigate them. It's been a challenging experience," Phillips said in August. "Now I'm on the other side, learning how archives are organized."
"Being a historian, archival research is the ultimate goal, so the more you do of it, the more competent a researcher you are, and the more it can help you develop themes in your area," said Farris.
Hakim, Torres and Phillips's internships were sponsored by the Division of the Social Sciences Emerging Leaders Initiative. Ambrosone's internship was sponsored by UChicago GRAD.