Something's Brewing web exhibit launched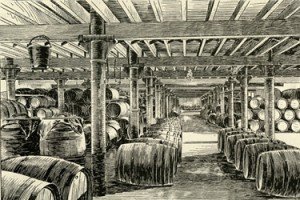 There is more to brewing than barley and hops. Beverages have been brewed from beans, oatmeal, honey, molasses, rye, wheat, old bread, and even whole chickens. Ancient Egyptians, medieval monks, and Chicago city founders have all practiced the art of brewing.
The Crerar Library exhibit, Something's Brewing: The Art, Science and Technology of Brewing, was originally shown January 8 – March 31, 2007 and explored the development of brewing, from the ancient Sumerians' rice-based beverages to the rise and fall of the Chicago brewing industry.  The Library is pleased to present a web version of the exhibit, including links to original works in digital online libraries where available.  
This exhibit was curated by Andrea Twiss-Brooks and Debra Werner.  The images and text were adapted for the web exhibit by Jennifer Hart and Andrea Twiss-Brooks.