Sweet treats for Valentine's Day
Valentine's Day Candy is a tradition dating to the mid-19th century due to the work of icons like Cadbury and Hershey. The Crerar Library has a large collection of texts related to candy and treat manufacturing, replete with advertisements, technical descriptions, and recipes. In the stacks of the John Crerar Library are dozens of journals dedicated to professional manufacturing of candy, while the Special Collections Research Center has texts as early as Hannah Glasse's "The Compleat Confectioner: or, the whole art of confectionary made plain and easy"printed in 1772.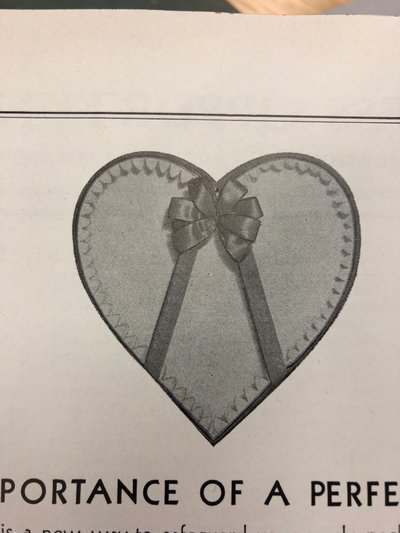 In the Crerar Library, Mrs. W.H. Wilson's 1904 cookbook on desserts offers an enticingly-named recipe for 'Moonshine':"Beat whites of 6 eggs to stiff froth; add gradually 6 tablespoons of powdered sugar. To make thicker add more sugar. Do not beat for 30 minutes; then beat in 1 table-spoon of preserved peaches cut up very fine. Set on ice to get perfectly cold. Serve with whipped cream.'
For a more seasonal recipe to withstand the winter, the 'Spice Cake' is promising, but hefty:

"Whites of 16 eggs.
6 cups of flour.
4 cups of sugar.
2 cups butter.
1 cup buttermilk.
2 teaspoonfuls baking powder.
Dark part - 8 egg yolks, 3 cups flour, 1 cup brown sugar, 1 cup molasses, ½ cup butter, ½ cup buttermilk ½ teaspoonful baking powder. Spices."
For candy, surprisingly a lighter choice with Valentine's Day around the corner, the recipe for Butter Scotch is another excellent option:
"2 lbs of granulated sugar and ¾ pint of water. Boil together until nearly done, then flavor with lemon extract. Add a half pound of butter and boil for a few minutes longer, or until it cracks in cold water. Pour out on to a slab in a thin sheet, and when cold, break into irregular pieces."
The Confectioner's Journal (641.051 C76) offers an industrial perspective on candy. Journal articles on reducing costs, improving quality, and technological advancements are interspersed with advertisements on everything from packaging to raw materials. "Beware!" one ad from the United Chemical & Organic Products Company of Chicago reads in the January, 1932 edition. "Beware of the man who says, "It's just as good but costs less."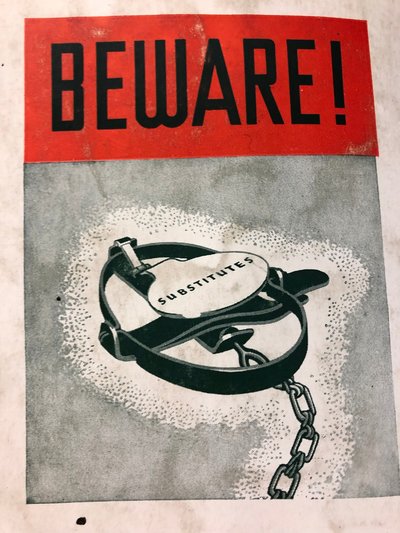 In the introduction to the edition, Valentine's Day is noted as a perfect holiday in between Christmas and Easter. The discerning admirer, of course, will note the occasion with candy: "A touch of humor, or whimsy, is always appreciated, especially by the romantic souls who are sure to remember February 14 with candy."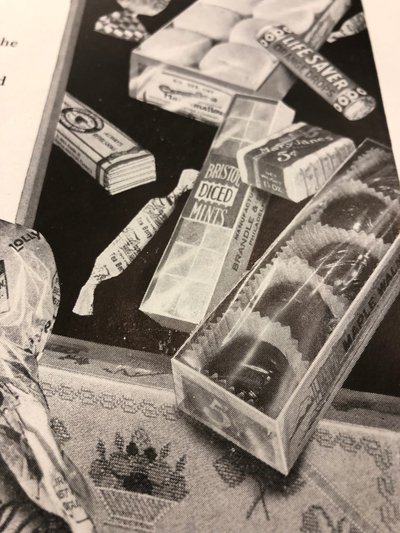 The professional nature of the journal is highlighted. An editorial cautions that, to succeed in the candy industry with the backdrop of home cooks and dilettante manufacturers, is "an impossible job." In 1923, the business outlook wasn't much different: a business quiz inquires for the three analysis factors in manufacturing (material cost, labor, and operating expense), before diverging to a discussion of avocational manufacturing. "Any community which encourages amateur production, the journal claims, "to the injury of its merchants don't deserve to prosper." The Aridor Company of Chicago proudly offers "More than just a display jar!" to showcase confectionaries perfect for the holiday, while molds for Easter bunnies take up nearly an entire page of advertisement, surrounded by chocolatiers like Hershey and Fannie May.
No matter your interest in candy manufacturing, from that evening's treat to industrial manufacturing (or, for fans of Bon Appetit's "Gourmet Makes," somewhere in the middle), the Crerar Library has plenty to satisfy your sweet tooth.