The Fetus in Utero: From Mystery to Social Media
Exhibition Dates: January 2–April 12, 2019
Location: Special Collections Research Center Exhibition Gallery, 1100 East 57th Street, Chicago, IL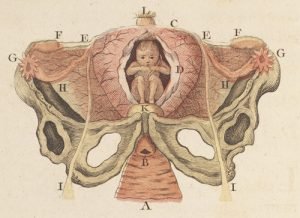 Once restricted to the privacy of the doctor's office, ultrasound images of the fetus are now immediately recognizable in the public arena through advertisements and social media, where posts tagged "baby's first pic" are commonplace. Such depictions of the fetus in utero have become iconic and are arguably the most easily recognized medical image. How and why did this happen?
To answer this question, viewers are invited to embark on a 500-year visual journey, from Renaissance woodcuts to modern medical images. Along the way, they will encounter three major shifts in graphic representation. First, from 1450 to 1700, the fetus transformed from divine mystery to a topic deemed worthy of study. Second, from 1700 to 1965, the fetus achieved status as a medicalized subject whose visual 'home' was the obstetrical textbook. Third, from 1965 to the present, the fetus has achieved status in popular culture while maintaining its traditional medical role.
Through this rich visual culture, images of the fetus in utero have been used in the service of education, research, political agendas, patient-empowered medicine, and finally, entertainment. The images on view offer historical insights and a sweeping look at how the visual culture of the fetus in utero developed.
Hours: Mondays through Fridays, 9 a.m. – 4:45 p.m., and, when University of Chicago classes are in session, Tuesdays and Wednesdays, 9 a.m. – 5:45 p.m.
Curators
Brian Callender, MD, Assistant Professor of Medicine, The University of Chicago; and Margaret Carlyle, Postdoctoral Researcher and Instructor, Stevanovich Institute on the Formation of Knowledge, The University of Chicago
Related Events
Curators' Tours
Friday, January 4, 4:30–5 pm
Wednesday, January 23, 1:30–2 pm
Friday, February 8, 4-4:30 pm
1100 East 57th Street, Chicago, IL
Free 30-minute tours by the curators. Please meet in the front lobby of the Regenstein Library at the start time.
Opening Event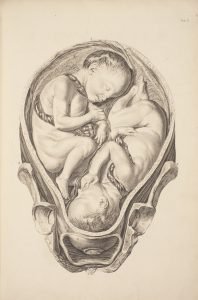 Use of Images and Media Contact
Images from the exhibition included on this page are available for download to members of the media and are reserved for editorial use in connection with University of Chicago Library exhibitions, programs, or related news. For more information and images, contact Rachel Rosenberg at ra-rosenberg@uchicago.edu or 773-834-1519.