The Hanna Holborn Gray Graduate Student Fellowships
The University of Chicago Library is pleased to announce that its graduate student fellowships are now named the Hanna Holborn Gray Graduate Student Fellowships in honor of University of Chicago President Emeritus Gray's generous support of the fellowship program since its inception. The Gray Fellowships are designed to build graduate students' skills and knowledge in new areas of scholarship and to give them opportunities to explore alternative scholarly careers.
"We are delighted that President Emeritus Gray has enabled us to provide new opportunities for graduate students and are deeply honored that she has recognized the important role that the Library can play in expanding students' academic horizons," said Library Director and University Librarian Brenda Johnson.  The Hanna Holborn Gray Graduate Student Fellowships awarded during Winter/Spring 2019 and Summer 2019 included opportunities such as working with historical Chicago maps and GIS data, creating metadata for Mesoamerican language materials, archival collection exploration and discovery, and exploring digital scholarship methods.
Applying for Fall Gray Fellowships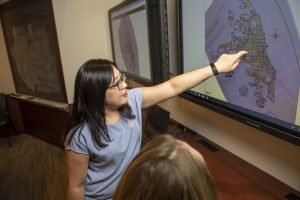 Interested University of Chicago graduate students are encouraged to apply by September 15, 2019, for currently posted fellowships. Additional fellowships will be posted as they become available.  Renewal of fellowships for one or more additional quarters is considered on a case by case basis.
There are currently two opportunities available for Fall 2019:
The Hanna Holborn Gray Graduate Student Fellowship for GIS Instruction:
This fellowship will provide instructional programming focusing on the introduction of spatial literacy and geospatial concepts.  The Fellow will update existing instruction material and create resources in a variety of formats, including demonstrations, workshops, tutorials, and web content.
The Hanna Holborn Gray Graduate Student Fellowship in Subject Librarianship:
This fellowship matches graduate students with the subject specialist in their area of study to introduce the student to the work of a subject liaison. The graduate student would partner with the subject specialist to design a project that combines the student's subject expertise with the librarian's expertise in collection development and liaison services. For Fall 2019, we are seeking a University of Chicago Divinity School graduate student to work with the bibliographer for religion, philosophy, and Jewish studies.
Fall 2019 fellowships come with a stipend of $3300 per academic quarter.  Fellowships typically involve approximately 15 hours of work per week.