Third Edition of the New Palgrave Dictionary of Economics brings changes to access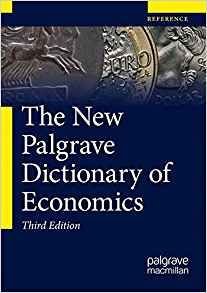 Palgrave Macmillan published a new edition of the New Palgrave Dictionary of Economics late last year. This updated version features new articles as well as articles from the two  previous editions. It is now on the SpringerLink platform and offers easy downloading of articles as Adobe PDF documents.
The Library has access to two versions. First is the Living Edition, which is updated with new articles on a regular basis. Our links in the Library Catalog and on the Business & Economics guide point to this version. The second version is the text of the Third Edition as it was printed. The two versions are almost identical at this time, but the Living Edition will have new content added regularly.
This new edition has eliminated the ability to compare current and previous editions online. The first and second editions are available to use in Regenstein Library, shelved in the second floor reference collection at call number HB61 .N49