UBorrow reduces Recall requests by 30 percent
In its first year, UBorrow provides rapid access to 10,500+ books for UChicago students, faculty 
The Library's UBorrow service, launched approximately a year ago, has proven to be a reliable and popular system for borrowing books from 12 university libraries in the Midwest and the nearby Center for Research Libraries. Books requested through UBorrow typically arrive on campus within a week and can be checked out for 12 weeks, with an option for a 4-week renewal. Approximately 90 million volumes are accessible through this service. 
Library users choose UBorrow over Recall

In the past year, approximately 2,300 University of Chicago students, faculty, and staff have borrowed more than 10,500 books through the UBorrow service. The popularity of the new service led to a 30 percent decrease in the number of items recalled from UChicago Library users from the period March 2012 to January 17, 2013 compared with the same period in 2011-12, suggesting that many are choosing not to inconvenience UChicago borrowers when copies can be easily obtained through UBorrow.
In many cases, UBorrow provides a better option than recalling a checked out book or getting it through traditional interlibrary loan, as the book is likely to be received more quickly through UBorrow than through either of these services. As an added benefit, books obtained from UBorrow will not be recalled before their due dates, except under unusual circumstances, such as when a book is needed for course reserve at the lending library. 
Graduate students consider UBorrow 'wonderful'
Graduate students have been the heaviest users of UBorrow and have responded enthusiastically to the new offering.
"UBorrow has been a wonderful service that has greatly expanded access to the more popular books in the library's holdings," says Alexander Moffett, a doctoral student in Conceptual and Historical Studies of Science in Social Sciences and a medical student in the Pritzker School of Medicine. He notes that he has been able to get books more quickly than he previously had via Recall and that he appreciated knowing for certain at the time of a request that a book would be available.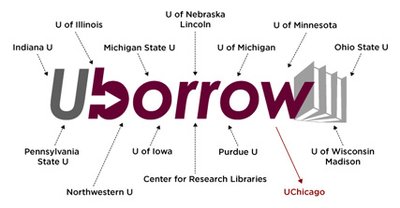 Master's students have found the service similarly useful. "Recall is the reason I switched my loyalties to the UBorrow system." says Bill Hutchison, MAPH '12. "In the midst of writing my master's thesis, fighting with other students over certain volumes was annoying, but it seemed that there was no other solution."  Once the new service became available, Hutchison says, "I switched to UBorrow, and have since led a peaceful and harmonious scholastic existence." 
Hutchison is also delighted at the range of resources he has been able to obtain from UBorrow:  "everything from 19th century books on insect architecture to limited edition books by small-run, international publishers."
CIC loans books, wins innovation award for UBorrow
University of Chicago established this consortial borrowing program with the other members of the Committee on Institutional Cooperation (CIC), including the University of Illinois, Indiana University, University of Iowa, University of Michigan, Michigan State University, University of Minnesota, University of Nebraska-Lincoln, Northwestern University, Ohio State University, Pennsylvania State University, Purdue University, and University of Wisconsin-Madison, as well as the Center for Research Libraries. The relative proximity of our partners, as well as the commitments made by each institution, allow books to be delivered through UBorrow far more rapidly than they usually are through our traditional interlibrary loan program.
Over the summer, UBorrow won the Rethinking Resource Sharing 2012 Innovation Award, which honors individuals or institutions for changes they have made to improve users' access to information through resource sharing in their library, consortium, state or country. David Larsen of the University of Chicago Library and Anne Beaubien of the University of Michigan Library accepted the award on behalf of the CIC. The University of Chicago Library took a leading role in the collaborative development of UBorrow program for the CIC. Larsen, who is Head of Access Services and Assessment at UChicago, chaired the CIC task force that recommended this consortial borrowing solution, as well as the implementation team.
Thus far, UChicago has been borrowing more books through UBorrow than it has loaned. In fiscal year 2012, UChicago loaned 1,072 items through UBorrow to partner libraries and borrowed 10,540.