Uncovering history through rare book cataloging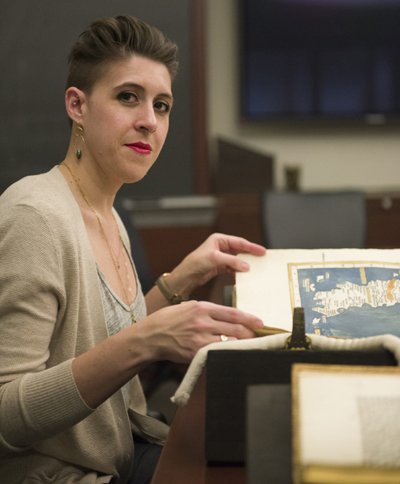 Not all copies of a book are created equal. A copy of the Odyssey printed in the hand press era (1450 to roughly the 1840s), for example, would have different qualities than one printed in the machine press era (the 1840s to the present). What is more, each copy of a book takes on its own distinct history as it is acquired, studied, and passed from one person or institution to another.  The extra-textual elements found in rare books—from handwritten annotations to bookplates, bindings, and stamps—can reveal a history that is vital to a scholar's research.
Thanks to the support of Julie and Roger Baskes, the Special Collections Research Center is undertaking a major project to enhance its rare book cataloging, making the special characteristics of individual rare books readily discoverable by researchers around the world. Over the past year, Special Collections Project Cataloger Jennifer Dunlap and dedicated graduate rare books assistants have reviewed, corrected, and enhanced bibliographic records for more than 4,000 titles, making edits to the online University of Chicago Library Catalog and WorldCat, a global catalog of library collections.
Along the way, they have discovered many previously buried treasures. For example, the catalog record for the Library's 1486 edition of Ptolemy's Geographia now makes note of the presence of the 32 hand-colored woodcut maps—including the pictured one with costly and striking blue paint filling the oceans. A box of sheet music previously listed under a single title was found to contain 75 pieces of music about President James Garfield.  Several were unique pieces not included in WorldCat until Dunlap created a new record there. "This project is not just impacting our local University of Chicago Catalog, but is also allowing other institutions to discover resources globally via WorldCat and link their own holdings to it," she explained.
Re-cataloging a title can take from as little as five minutes to an entire day. Dunlap describes the style of binding and marks of ownership in the record, as well as adding applicable terms that can aid in searching.  If users made edits to the printed text, correcting a misspelling, adding a missing word or phrase, or censoring a word or line, Dunlap notes the presence of these edits in the online catalog record, transcribing them in full if they are short.  For example, the Library's copy of Chronicles of England (circa 1486) includes crossed-out references to the pope and the sainthood and martyrdom of Thomas of Canterbury, suggesting that the owner may have been expressing anti-Catholic sentiments after the establishment of the independent Church of England.
In the eyes of scholars and experienced catalogers such as Dunlap, the many marks left by former owners bring a book's readership to life.  Dunlap's cataloging work continues so that more stories of writers and their readers can be discovered and written over time.