Unearthed from the archives
Yesterday, the Geological Society of London revealed that it had recently unearthed rare and important historical artifact: a first edition copy of a geological map first published in 1815. The map, a work of art in its own right, depicts the geology of England, Wales, and portions of Scotland and was created by the influential geologist William Smith.
Smith, often referred to as the "Father of English Geology," traveled roughly 10,000 miles per year for 15 years to conduct research for his geological map. These years of travel and extensive study of fossils likely led him to one of his most scientific contributions: the principle of faunal succession. In essence, Smith realized that because fossils are layered in the earth one after another in a predictable, linear fashion, different rocks containing similar fossils are similar in age. Based on this principle, geologists have constructed a timetable with which to measure the relative age of rocks.
Simon Winchester underscored the map's significance by titling his 2001 biography of William Smith The Map that Changed the World. The map, the most extensive geological map produced at the time, contained hand-finished watercolor details and provided a rich illustration of the Earth's strata. 
The Geological Society's copy of the map, uncovered just in time for Smith's birthday (March 23rd, 1769), is one of only 70 first edition copies and roughly 370 copies, total. It is likely among the first 50, if not the first 10, ever produced. The Geological Society's leather-bound copy had been misplaced by a patron 40 or 50 years ago, and because it has remained untouched and unexposed to light for so many decades, the map's rich colors have been well-preserved.
The Geological Society, which originally had a somewhat tumultuous relationship with Smith but bestowed recognition upon him later in his life, has paid tribute to Smith by fully restoring and digitizing his maps. The Geological Society published the maps online yesterday, marking what would have been Smith's 246th birthday.
---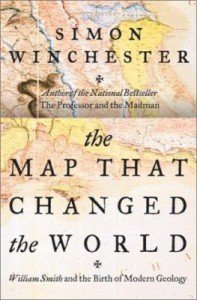 Interested in learning more about William Smith? Be sure to check out The John Crerar Library's copy of The Map that Changed the World, by Simon Winchester.