'Where gathering minds can do more': Alumni share Regenstein Library stories
As part of this milestone year marking the Joseph Regenstein Library's 50th anniversary, University of Chicago alumni are sharing their Regenstein stories. This installment of collected memories illuminates the ways that the librarians, collections, and spaces of Regenstein created a vital hub where students could meet friends and mentors, conduct research, grow as students and scholars, and experience Library innovation firsthand.
Remarks have been edited for length and clarity.
From classic texts to famous scholars in elevators
Anthony Grafton, AB'71, College (History); AM'72 (History); PhD'75 (History)
The Regenstein Library is where I learned most of what I know.
I came to the University of Chicago in '67 as a first-year student in the College and stayed on through my PhD, which I earned in '75. My years as a student included the time during which Regenstein was built, finished, and opened. I vividly remember the system we had before Regenstein: the old German university system. There was a central Library named Harper, stuffed with books, and numerous smaller departmental libraries, with cozy, wood-paneled working spaces.
One of the things that struck me when the old wall around Stagg Field came down and the new building opened was just what a comfortable library Regenstein was. It seemed quite luxurious at the time: it had carpets and deep, upholstered armchairs. Above all, it was great to do pretty much everything—study, write, attend seminars—in the same pleasant interior. For my two years of prep for orals, I basically lived in Regenstein with the other students who were in the same cohort. As a grad student doing European history, I mostly hung out on the Third Floor, with my fellow students. The classicists had a great collection of reference books and standard editions in the reference area on the Fifth Floor, which I used very heavily. Even on a winter day in Chicago those big windows gave brilliant natural light. It was a welcoming place.
We didn't have a coffee shop at the Library then, but it was still very social. I remember having some great conversations while walking the perimeter of the Third Floor stacks.
Special Collections and graduate teaching were always engaged with one another, and the University of Chicago has always been far ahead of many other libraries in that respect. It's not just that classes take place in a sanctum where students get to see and touch rare books and manuscripts: that's fairly traditional now. In the Regenstein students get to work together on exhibits, ransacking the collections for cool objects, designing exhibit cases, and writing captions. A great friend of mine in the history department, Ada Palmer, holds marvelous courses there, which produce exhibits and catalogs. One of her classes put together a spectacular show on censorship and another one a wide-ranging, imaginative exhibit on cities and early modern Europe.
I have a very vivid memory of one of my happiest moments in Regenstein. I was going out for lunch on a frigid winter day, and I was carrying a book because I wasn't meeting anybody. I entered the elevator with a short, dignified gentleman. He seemed interested in the book, so I showed it to him. It was a classic British mystery from the twenties by a Scottish writer: pretty obscure reading for a twenty-something. Finding a student with this strange old paperback made him curious about me, and he asked who I was. He turned out to be a very famous sociology professor, Edward Shils, who split his time between the University and Cambridge, and who was very kind to me for years afterwards. Encounters like that were a regular feature of life in the Reg.
'Puttin' on the Reg'
Ken Baron, AB'87, College (Mathematics)
I was a big user of the Reg in the 1980s. It was a great place to study and avoid some of the distractions of the dorms. When I was in college the very old song called "Puttin' on the Ritz" got redone. I remember I wrote lyrics about Regenstein Library set to the tune of this song. A few lines were "Go right now: get out of your stupor / Stay till one and be a trouper . . . Come on shake a leg / Puttin' on the Reg!"
I spent a lot of time on the A Level, which was always pretty quiet. Back in those times, A Level had really comfy lounge chairs where you could stretch out, do some work, and take a nap. Many friends and I would gather at the Reg cafe, Ex Libris. The food selection was very limited in those days and we mostly just utilized its vending machines. However, going to Ex Libris was a great way to take a break from studying to socialize with friends who were also at the Reg. One highlight - I remember flirting at Ex Libris with the woman who would become my first girlfriend.
Colored carpets and the card catalog
Carol M. Tobin, AM'74 (Graduate Library School)
I started at the Graduate Library School (GLS) in the spring of 1972. Regenstein was still new at the time. One thing that I remember is that the carpeting was different colors on each floor. Since the carpets were new, they were still shedding. You could pretty much guess someone's area of study by the color of the fuzz on the edges of their shoes.
Of course, as a GLS student my classes were in the Library in a separate area with classrooms, seminar rooms, and a student lounge.
In either '72 or '73 the Library was going to have shorter summer hours. There was a petition and they had longer hours. People wanted the Library, but also the air conditioning.
I worked with Herman Fussler on my thesis on the British Library.
I had a student job in Library Data Processing. I did two things: type punched tape to produce pocket labels, and use the card cutter from the Peerless Card Company. The cards for the catalog came in long strips of card stock that had the catalog information as well as a hole for each card for the rod in the catalog drawer to go through. The card cutter stamped out the cards like a cookie cutter and a part of the card cutter came down and used the hole to advance to the next card. My job was to be sure the card stock went through and cut the card evenly. I had a set of Allen wrenches to tighten and repair the cutter, and when it got too bad it had to be sent back to the Company for repair. The machine sat on the crate with the company name on it that we used to return it in. It always made me think of the Acme company in the Road Runner cartoons.
'A gathering place for the mind'
Herodotos Ellinas, AB'88, College (Chemistry); MD'92
I came to the University from Cyprus in 1984 with the support of a scholarship, which gave 28 Greek Cypriots the opportunity to come to the United States for higher education. At the time, there were no universities at home. This scholarship was essentially an opportunity for us to go to America for school, and then to come back to help develop our country.
Though the application process was challenging, I could apply to any school I wanted; University of Chicago was included on my list. I got accepted. I had never been in the U.S. before, so this golden opportunity offered me a ticket to a future career. I knew that the University would be engaging with its well-known caliber and national recognition. I was ready for the challenges along with college fun that the University of Chicago had to offer. What a journey! I made some fantastic connections, connections that allowed me to grow and to become who I am today.
I remember the Regenstein Library was always the centerpiece on campus, and it was known to be a social gathering place. People would go there not just to study, but to meet their friends. We would lounge on the orange chairs and couches. As I was a resident assistant during school, I would spend most of my time in the dorms. However, I'd spend most of my long stretches on Saturday and Sunday in the Reg.
I've been infused with more information on the Reg as my daughter just graduated this past June, and my son attended the College, too. My son in particular loves the Reg. The coffee shop is his favorite.
From my experiences and speaking with my kids, the Library was and is still such a gem and a symbol of innovation and inquiry. The Reg is very rich in what it can offer. We, the students, find our ways of learning on many platforms, and the library is one of them. The Reg can offer you much more than checking out a book. It offers you the connections to the people who go there, work there, and study there, the people are pivotal to our learning and growth. I think places like the Reg are critical for enabling our world to prosper as they provide gathering places for the mind. People can inquire, innovate, socialize, laugh, and cry along with being mentored and guided. That's how I see the future and the next 50 years of the Library, as a place where gathering minds can do more. I want young students to know that a building such as the Regenstein Library is more than a building. I am confident that the younger generation will engage with the older generation in a collaborative effort to move us forward, especially in today's world. Our complex world requires the experienced persons and the technologically advanced minds to transform education.
Children's literature and a first kiss
Madelynne Billings Johnson, AM'74 (Graduate Library School)
In the fall of 1970, I began classes at the Graduate Library School (GLS). I graduated from Goucher College in 1968 with a major in Elementary Education and worked two years at Scott Foresman, the elementary educational book publisher in Chicago, before deciding to go to grad school for my Master's in Library Science. GLS was the highest ranked program in library science. I wanted to concentrate on children's literature with the goal of being a school librarian. I was drawn to libraries because I liked to be helpful and find answers for people.
I heard tales from teaching assistants that the faculty climbed in the windows at Regenstein to be sure their offices and classrooms would be ready for the opening of GLS. Everyone was thrilled to be in the beautiful, brand-new Regenstein Library and GLS classrooms and offices. The Library truly was our classroom. We basically lived there and it was a wonderful place to be in the early '70s.
Ms. Sara Fenwick was my advisor, and I wrote my thesis on divorce and separation in children's literature. I spent a lot of time in the children's books section. I had to read hundreds of books a week for my survey classes. I enjoyed 25 years in the library biz.
I lived at International House and met my future husband there — Dale E. Johnson (SM'67, Physics; PhD'71, Physics). We had our first kiss in a Regenstein Library elevator. We were married at Rockefeller Chapel on December 30, 1971.
One of the hallmarks of a free culture
Theodore Foss, AM'74 (Committee on the History of Culture); PhD'79 (Committee on the History of Culture)
One of the founding principles of the Reg was to create one spot for interdisciplinary studies. When you went into the Regenstein Library in the 1970s, the first floor had a card catalog, you had reference librarians, and you had extraordinary human capital that would help you. There were some wonderful staff members. I remember the colorful librarian who always wore a tie, Bob Wadsworth, Bob Rosenthal with Special Collections, and Octavia Florida with acquisitions. Staff members like them really helped us as students to figure out where to go. I think that that's the most important thing to me about how a library works.
I had a very special personal space for years right in the little cubicle on the Fifth Floor of the East Asian Library. When I go to the Reg now, I always visit that space. When I see somebody sitting in that little study carrel, I think, "well, they have no idea how important that little area is to me." It's kind of like a squirrel going back to her nuts.
I worked for Special Collections for a while when I was a grad student, and I put together an exhibition on the history of libraries at the University of Chicago, called The Library: A Retrospective View. The Regenstein was a culmination of a decades-long quest for the perfect research library, and there were many interesting stories along the way from Harper to the Reg. But the most important thing about that exhibit was to get to the heart of what the University was trying to do with creating the Reg. A library—whether it's a public library, a university library, or an open access library—is one of the hallmarks of a free culture, of a democratic culture. And I think that that's something that we always need to think about when we think about libraries. Libraries are incredibly important, and the Library is the soul of the University. When you're in the Reg, you are in this world of knowledge. When you walk through the Library doors, it's just your little mind and the whole world that's there.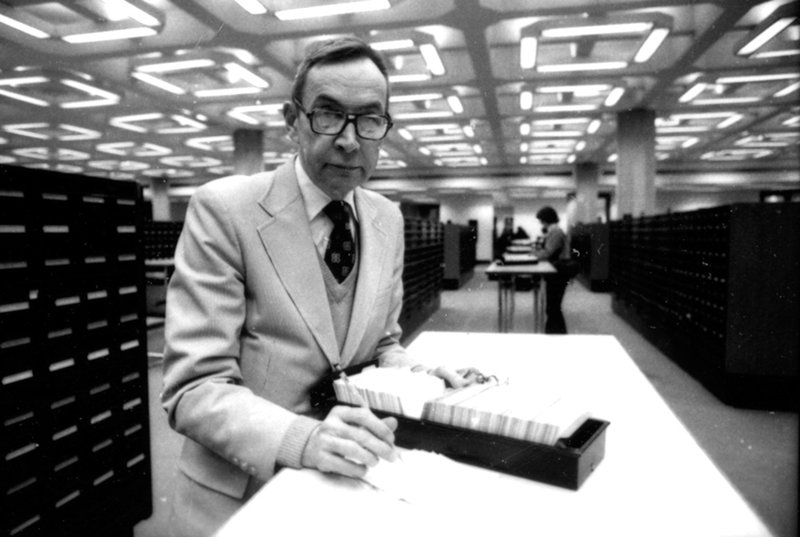 'A life-changing experience'
Robert Evensen, AM'74 (Graduate Library School)
I started out as a graduate student in fine arts in 1967. As my first job, I shelved books in Classics/Music. During the few years I worked there, Regenstein was being built. How exciting! When it was ready to open, I assisted in moving the Classics/Music Library to the Regenstein.
About this time, I felt that libraries were my vocation. I dropped out of the graduate Fine Arts program and enrolled in the Graduate Library School (GLS). I have many memories about working now in the Music Collection on the Third Floor of Regenstein and being back as a GLS student. I enjoyed helping faculty and students adapt to a new environment. I got to know more people in many new departments in the building. I lived through the conversion of paper to technology. Off goes the card catalog and in comes the internet. I loved it all.

I finally left Hyde Park in late 1974 and got my first professional job as Creative Arts Librarian at Brandeis University in Waltham, Massachusetts. Even though I was a novice in my new profession, I had a wealth of experience from the University. My background as an artist and Fine Arts major along with my knowledge of music librarianship made me a natural for the position at Brandeis. I stayed there for 31 years, eventually retiring as associate university librarian. Working in Regenstein helped me gain not only knowledge about working in a major
library, but also an understanding of scholarship and the needs of students and faculty. It was more than an education; it was a life changing experience.
This summer my husband Barry Guthary (AM'73, Social Sciences) and I celebrated our 50th wedding anniversary. We met in Hyde Park as graduate students, and we both worked in Regenstein. Barry first worked in the education collection on level four with Ruth Murray. Then, he moved to working on level five with Bruce Craig and Shirley Lyon in the Middle East and classics. I was working on level three with Hans Lenneberg and Dena Epstein in music.
My mentors really were the librarians and staff at the Reg. I wrote my master's dissertation under Ralph Franklin who was Dean of GLS. He was supportive and understanding. All my friends were library people. Alice Kniskern in South Asia and Bruce Craig in Middle East. Thus, began my lifelong love of Indian and Islamic art. I can only express my thanks to the University of Chicago Library for making it possible.
I have been thinking of the many wonderful memories of working in Regenstein and the incredible staff who were supportive of me as a GLS student and gave me the time to learn more about libraries and participating in the education of students and faculty. Faculty members were among our most important patrons as they also had new things to learn. I can remember many a time when one would say, "I didn't know that! Thanks for telling me!" Earlier the Library system was separated into subject departmental units. Regenstein brought students and faculty into the building to learn and socialize with each other. It was an early idea that research is more than just one's own field. Scholarship needed to include many different areas to be fruitful and lasting. This approach makes one feel part of a bigger picture of scholarship, rather than the old-style tiny areas of interest.
Family ties and the importance of passing on human knowledge
Kathryn Stearns, AM'78 (English)
The University of Chicago was a family school. My father, mom, and aunt (my father's sister) all attended when Robert Maynard Hutchins was president. My family was always very enthusiastic about the school. The University was at the foundation of my parent's intellectual life. When I came for graduate school I really enjoyed my one-year program in literature. I remember going to the reading room in the Regenstein Library to read in those comfy chairs. I checked out many piles of books for my master's thesis.
My aunt, Betty Stearns (PhB'45, College; AM'48, English), particularly loved the Library. Because she and my father grew up in Hyde Park, the University was always a part of her world and community. As a way of giving back and a blending of her love for the Library and literature, she endowed the Stearns Family Literature Fund, which was established to acquire books dealing with some facet of 19th- or 20th-century English or American literature.
As we look toward the future and the next 50 years, my hope is that even in the digital age libraries like Regenstein can continue to be hubs for gathering. At Chicago, Regenstein is at the center and the campus radiates out from there. It shows how vital the Library is and how libraries at large are the ultimate reminder of the importance of passing on human knowledge.
Check outs, recalls, and government publications
Jack McGeachy, AM'73 (Graduate Library School)
Two men influenced my decision to attend the University's Graduate Library School (GLS) program: my father John A. McGeachy, Jr. (PhD'42, History) and Chalmers Davidson (AM'36, GLS), librarian of my undergraduate college, had studied there. In college, I had become intrigued by collections of federal government documents, and they would become the focus of my career. I organized several U.S. Government Publishing Office (GPO) depository collections, bringing order out of chaos, as one colleague remarked. I enjoyed knowing the contents of those collections and helping patrons find government information they were seeking.
There certainly have been huge changes in Regenstein and libraries everywhere over the last 50 years. Checking out a book in 1970 was a laborious manual process. Patrons presented a book they wished to borrow and their ID card at the circulation desk. Staff took the ID, the book's borrowing record (found on a 3x5 card in the back of the book), and added a third card showing the book's due date. They arranged these three pieces on a photocopier and made two copies of the displayed data onto 4x9 cards: one circulated with the book and the library retained the second.
For about a year I worked in the recalls section of the circulation department, initiating the recall of books from faculty members who held items other patrons desired to use. That work took me into the Masterfile room on Regenstein's B level where all the 4x9 cards representing checked-out books were maintained, manually filed in call number order. Cards were housed in three automated file cabinets, each with perhaps eight shelves holding 5 trays apiece; each tray holding about 500 cards. Workers accessed a desired shelf and tray with a push-button, engaging a motor that rotated the shelves around a central horizontal axle. A workstation in front of this apparatus could accommodate two workers who filed and pulled cards as required. Phone lines located on each floor connected patrons with workers in the Masterfile who would answer queries regarding a book's status. Now all of this manual labor has been replaced by the magic hidden behind computer interfaces.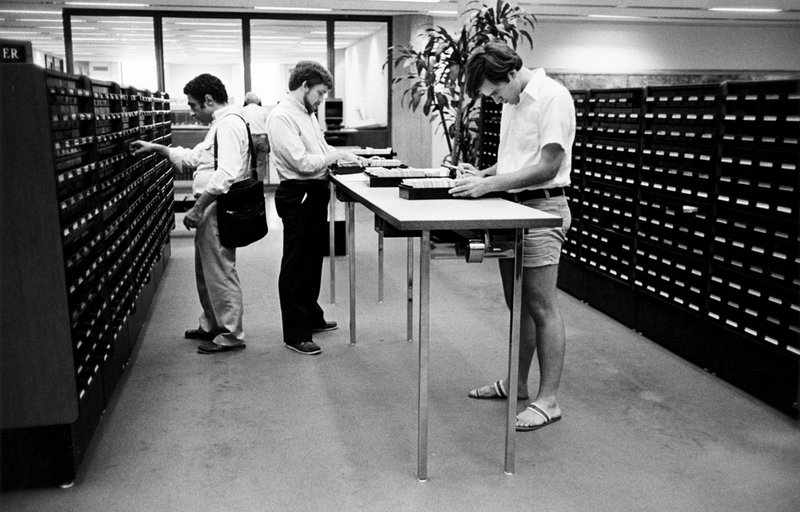 Relationships and statistical analysis
Bob Winger, AM'83 (Graduate Library School)
My experience with the University of Chicago's Graduate Library School goes back to when it was located in the East wing of the Harper, when I would take the Illinois Central (now Metra Electric) train from Matteson to the 59th Street station and walk to visit my father. But when I entered into the GLS Master's program in the fall of 1980, I developed an appreciation for the Reg. All classes were there, and I developed close relationships with other students in the program that have lasted to this day.
During my time in GLS, I was in the work study program—first as a page re-shelving books in the stacks and then later in pre-cataloging under Ruth Frazier, checking the LC MARC catalog records for newer acquisitions, and "correcting" the entries to the University of Chicago way. I doubt that I was that efficient, as I would let myself get distracted by the texts of the books that I was re-shelving or checking their records.
Students would host informal gatherings and receptions in Regenstein. I attended my first and only Seder dinner in the GLS kitchen area. It was a really nice and meaningful service to be a part of.
My Master's thesis was based on taking a sampling of interlibrary loan records from the Reference Department (headed by Pat Swanson) and analyzing their disposition. As I had the toughest time in coursework in Abe Bookstein's Statistics class, I decided to do a statistical analysis for my thesis. The last time I spent a lot of time at Regenstein was when I holed up in the GLS to enter my stats into the IDA (I believe it stood for "Interstatistical Data Analysis") terminal there. We were granted a certain amount of time to do our work on that program, but that allotted time doubled or tripled after midnight. On a summer's night, I locked myself in the GLS work room, entered the data and was out when the sun began rising. Then I was off for my career as a law firm librarian, first in New York and then back home to Chicago. I finished my thesis using the word processors at my first firm, and submitted it to the Dissertation Secretary just in time to avoid having to retake the comprehensive examinations.
[Editor's note: Bob Winger's father, Howard W. Winger, joined the Chicago faculty in 1953 as Assistant Professor and was appointed Professor in 1968. He served as Dean of Students in the Graduate Library School from 1953 to 1956 and as Dean of the School from 1972 to 1977. He was managing editor of the Library Quarterly, an international journal of investigation in library science, during several periods in his career. He retired in 1981 and passed away in 1995.]
'The place where I knew I could find my friends'
Claire Haffner, AB'14, College (Slavic Languages and Literatures)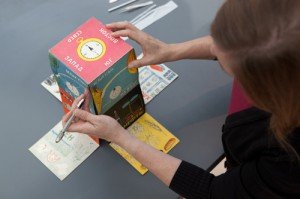 The Reg not only was where I did the vast majority of my work, but it was also the place where I knew I could find my friends. A topic of frequent discussion among my friends was how we wished there were beds in the Reg that you could earn with academic merit. …You do well, you get a Reg bed.…That way you wouldn't have to go home to nap, or ever really.
The First Floor exhibition space and the Special Collections are amazing. I got to look at an old Soviet children's book in Special Collections for a project once. It was very delicate, and so cool that we had all that material at our fingertips.