About the University of Chicago Library
A Message from the Library Director and University Librarian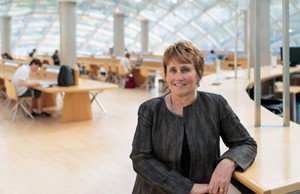 Welcome to the University of Chicago Library.

We put Library users at the center of all we do and are here to empower you with deep and rich collections, extensive expertise, innovative programs, and diverse spaces. We are committed to cultivating an inclusive community, enhancing access to scholarly resources, advancing digital scholarship, engaging locally and globally, and exceling in a changing environment. It is our mission to work with you in the pursuit of intellectual discovery, rigorous learning, and global engagement.
Whether you are on campus or working remotely, I encourage you to reach out to me and other Library staff members to let us know how we can collaborate with you to advance and share knowledge, to innovate, and to build a better future. Wherever you are, the Library is with you.
With warmest regards,
Brenda L. Johnson
Read more from the Director on the Library News site.
Diversity, Equity, and Inclusion Statement
The University of Chicago Library believes that a diverse, equitable, and inclusive environment builds a stronger, more creative community where we broaden approaches to our work and make better decisions. We encourage open and honest discussion, reflect on our assumptions, and actively seek viewpoints beyond our own. We welcome different perspectives as they challenge and motivate us to learn and respect the uniqueness that we each bring to our shared endeavors.
---
By the Numbers
Collections*
9th largest academic library in North America
12.4 million volumes in print and electronic form
68,824 linear feet of archives and manuscripts
294 terabytes of born-digital archives, digitized collections, and research data
Collection Use
128,356 print volumes circulated to 10,995 unique individuals
6.0 million electronic articles delivered
1.9 million uses of electronic books
64,000 uses of streaming media
Services
11,371 filled Scan & Deliver requests
13,640 filled requests from Big 10 libraries
10,986 filled requests from Ivy Plus libraries
7,908 other filled Interlibrary Loan requests
28,527 items on course reserve for 1,446 classes
12,372 questions to librarians
11,993 attendees at training sessions
Visits
884,123 entries into Regenstein and 56,172 entries into Crerar
13,076 visits by researchers unaffiliated with the University
1.6 million visits to the Library website
727,407 visits to the Library catalog
*Library ranking is based on the most recent data available (for 2019) from the Association of Research Libraries. All other data date from June 2020.

---
Serving the University Community During the COVID-19 Pandemic
(Information in this section dates from 9/27/2020.)
As a result of the COVID-19 pandemic, the University of Chicago shifted entirely to remote teaching and learning for Spring Quarter and all Library buildings were temporarily closed by March 20, 2020. This did not mean that Library services ceased. Our staff were able to quickly pivot to providing resources and services entirely remotely for faculty, students, and staff scattered around the world. This shift was made possible by past investments in technology, digital resources, and strategic partnerships and by the expertise and dedication of Library staff members, who worked creatively to meet a challenge unprecedented in their lifetimes. The Library is providing UChicago faculty, students, and staff with access to 5.4 million electronic books; over 220,000 electronic journals and newspaper titles; 1372 databases; and 1100 streaming videos. We also offer a rich array of digitized collections from our Special Collections, the University Archives, the Map Library, and general collections to the world.
Provision of full-text electronic access to many of our in-copyright print books through the HathiTrust Emergency Temporary Access Service program has been extremely important: patrons have accessed 33,143 books through September 9. We also have delivered 27,000 uses of streaming media.
Our librarians are working online to answer our patrons' questions and provide specialized consultations, instruction sessions, and workshops through email, chat, and video conferencing.
When the Library was recently able to bring some staff back on site, we launched a new Paging & Pickup service for loaning physical resources and re-started Scan & Deliver to provide digital access to articles and chapters from our print collections. In the first two weeks of the new paging service, from June 15-30, 1859 requests were filled. As the University prepares for hybrid learning in Autumn Quarter—simultaneously serving faculty and students located on and off campus—we are offering robust online instruction and consultation programs, course reserves, and digital scholarship services regardless of location, as well as the paging and scanning services that give patrons access to our print collections. We are also making arrangements to allow UChicago patrons to reserve a limited number of seats in the Library for quiet, individual study or computer workstation use, and to make appointments to consult materials such as rare books, archives, and microfilm. We will continue to expand and adjust our services as conditions and our community's needs change.
Librarians, Doctors, and Medical Students Collaborate to Share the Latest Research on COVID-19 with Clinicians on the Front Lines
As COVID-19 came to Chicago, our medical librarians have played a special role in gathering cutting-edge research for doctors battling the novel coronavirus. As the amount of literature being published increased dramatically, Kaitlyn Van Kampen, the Library's new Kathleen A. Zar Clinical Library Resident, and Debra Werner, Director of Library Research in Medical Education, were asked by hospital leadership to perform literature reviews and provide reliable resources for clinicians. The team quickly evolved into the UChicago Educational Support Team for COVID-19, including infectious disease Fellow, Dr. Maggie Collison; five fourth-year medical students and an internal medicine intern, sponsored by Associate Chief Medical Officer for Clinical Learning Environment, Dr. Vineet Arora. The team's focus was expanded to support frontline clinicians across the organization who were treating or evaluating patients for COVID-19, including in the special COVID units that cohorted patients with COVID-19.
Led by Van Kampen, the team's current principal functions are to answer clinical questions about COVID-19 and to summarize important COVID-19 literature. They also play a major role supporting clinical case conferences. Ten fourth-year Pritzker students participated in this group by enrolling in a medical school elective course.
The impact of the UChicago Educational Support Team for COVID-19 extends beyond UChicago Medicine. They have been contacted by universities around the nation about their methods for collaborating and sharing their materials. Librarians from other universities have requested use of the website for hospital clinicians and its literature resources. An Emergency Department resident from another institution requested support in establishing a similar team at their hospital.
D'Angelo Law Library Provides Opportunities for Students Impacted by Pandemic
Law librarians in partnership with others in the University provided an additional summer session of the Careers in Law seminar for undergraduate students July 20 through August 24, 2020. This is a non-credit bearing seminar offered to undergraduates interested in learning about researching and writing about the law with the goal of preparing undergraduates for legal internships and eventually law school. The seminar was completed by 32 students.
Additionally, D'Angelo Law Library partnered with the Law School to respond to the economic impact of the pandemic on Law School students' summer employment. As a result of the pandemic, some Law School students experienced changes to their summer employment, such as shortening the position or changing the nature of the position. To provide these students with an opportunity to continue to develop their skills, D'Angelo Law Library offered the Summer Legal Research and Writing Opportunity from July 20 through August 21, 2020. Students participating in the program learned advanced legal research strategies and tools to research a topic of their choosing related to the COVID-19 pandemic. The areas of law covered by the program were tax, labor and employment, human rights, privacy, and contracts. During the program, the students worked with a law librarian to develop a research topic related to the COVID-19 pandemic in the area of law that they chose and researched the topic. Over the month, the students learned subject-specific tools and strategies for advanced legal research. At the end of the program, the students wrote a short paper on the research topic, which will be added to the Chicago Unbound repository. Twelve students registered for the program.
---
Collections
The Library builds and preserves research collections that support the present and future needs of its faculty, students, and staff. Thirty-nine percent of the Library's collections are in languages other than English, supporting faculty research with a global impact and making the Library a mecca for international scholars.
The Hanna Holborn Gray Special Collections Research Center is home to the Library's rare books, manuscripts, and the University of Chicago Archives. Highlights include:
A comprehensive collection of print editions of Homer's works
The Ludwig Rosenberger Library of Judaica
Editorial files of Poetry: A Magazine of Verse
The Chicago Jazz Archive
The John Crerar Collection of Rare Books in the History of Science and Medicine
Papers or medals of 21 Nobel Prize winners such as Enrico Fermi, Saul Bellow, S. Chandrasekhar, Ronald H. Coase, George Stigler, and James Cronin; papers of Harriet Monroe, Ida B. Wells, and Edward H. Levi.
Business archives and printing samples of RR Donnelley
The John Maloof Collection of Vivian Maier
The Library digitizes its own collections in order to provide greater access, preserve at-risk materials, and enable new forms of digital scholarship. One hundred subject-based collections, 44 archival collections, and 150 early manuscripts have been made accessible online, with items ranging from 4th century Egyptian manuscripts to early editions of the Maroon student newspaper to maps of Chicago before and after the Great Chicago Fire. Many more individual titles are available via our Library catalog and through our participation in the international digital preservation repository, HathiTrust.
---
Campus Libraries
The University of Chicago Library serves its users from six locations at the heart of campus, providing faculty and students with rapid access to its collections, research and study spaces, and diverse services.
The John Crerar Library for science, medicine, and technology
D'Angelo Law Library
Eckhart Library for mathematics
The Joe and Rika Mansueto Library
The Joseph Regenstein Library for humanities, social sciences, business, and special collections
The Social Work Library
The Joe and Rika Mansueto Library was opened at the heart of campus in 2011. Designed by renowned architect Helmut Jahn, the Mansueto Library has been recognized with a Distinguished Building Citation of Merit by the American Institute of Architects' Chicago chapter and a Patron of the Year Award by the Chicago Architecture Foundation. It features a soaring elliptical glass dome capping a 180-seat Grand Reading Room, state-of-the-art conservation and digitization laboratories, and an underground high-density automated storage and retrieval system. The Mansueto Library speeds scholarly productivity by allowing for the retrieval of materials in a median time of 3 minutes through use of robotic cranes.
---
Library Strategic Directions, 2020-2023
Below are six strategic directions the Library is pursuing for years 2020-2023, and selected services and initiatives undertaken in pursuit of those directions in FY'20. These areas of emphasis have allowed us to build on the Library's historical strengths, while innovating to expand the Library's role as a hub that connects UChicago faculty, students, and staff in the exchange of information and the creation of knowledge.
1) Cultivate an Inclusive Community
Build an inclusive organization that cultivates and values diversity, recognizing the strength that it brings to our community and operations.
Diversity and Inclusion Toolkit and Statement: The Library joined the University's Diversity and Inclusion Initiative by developing a divisional Diversity and Inclusion Toolkit and a Diversity and Inclusion Statement (see above).
Hearing One Another: In September 2019, Library staff participated in the UChicago Inclusion Workshop Hearing One Another, which introduces practical approaches to help people develop effective communication and listening skills.
Supporting Minority Business Owners: The Library expanded its relationships with minority business owners by hiring new catering vendors.
All Staff Reflection: Following the death of George Floyd, the Library held an Open All Staff Reflection, facilitated by Vice Provost Melissa Gilliam and her team, to respond to the current moment and share views on the racism, violence, and protest happening in our country.
Diversity & Inclusion Team: The Library established a Diversity & Inclusion Team to provide leadership and support to advance the Library's Strategic Directions, including but not limited to education and development opportunities across all levels of the Library and its community. The D&I Team has developed Community Agreements to guide its interactions, created reading lists to educate its members and other Library staff members about anti-racism, and analyzed a survey of Library staff designed to gather comments on the All Staff Reflection and ideas for pursuing future diversity initiatives.
Collections: Diversifying collections, exhibitions and programming is an ongoing priority for the Library. Among the year's new online offerings are the fully digitized North Korean Stamp Collection and the web exhibit A Voice for Justice: The Life and Legacy of Ida B. Wells.
Diverse Books & Open Conversations: Librarians Holiday Vega and André Wenzel launched a discussion series that invited the community to read and discuss There There by Tommy Orange and Deaf Republic by Ilya Kaminsky.
College Student Success: In collaboration with the University's Center for College Student Success, the Library offers specialized programming to help first-generation, undocumented, and low-income students through specialized workshops and orientations, such as those for the Odyssey Scholars.
2) Empower Faculty and Students with Library Services, Collections, and Spaces
Advance state-of-the-art research, teaching, and engaged learning by implementing innovative and inclusive services and reimagining library collections and spaces.
Tailored Instruction for Courses: In collaboration with faculty, librarians provide tailored instruction for courses to teach students about the critical use of information resources. Library sessions highlight the rich digital and print collections available for use in assignments and research projects. In addition, our librarians support instructors through designing custom help guides and assignments that focus on research skills and Library services.
Highlighted New Librarians:
Kaitlyn Van Kampen, MLIS, joined the Library on January 6, 2020, as the Kathleen A. Zar Clinical Library Resident. In this role, Van Kampen provides point-of-need services and information support for UChicago Medicine clinicians by attending patient rounds and answering clinical questions. She also provides research support to the broader University of Chicago health sciences community, collaborates with medical education faculty at the Pritzker School of Medicine, and offers instruction on using biomedical databases to retrieve high-quality medical evidence. Van Kampen additionally works on community outreach programs.
Megan Browndorf joined the Library as Slavic and East European Studies Librarian on November 1, 2019. Browndorf provides research services such as consultations and customized instruction for faculty, students and staff in Slavic Languages and Literatures and the Center for East European and Russian/Eurasian Studies (CEERES). She uses her expertise to build library collections for Russia, Eastern Europe, and Eurasia. These collections are among the best in the country and are a rich source of material supporting a range of interdisciplinary research.
Teaching: Law librarians instruct students in first-year and advanced legal research and writing courses. Other librarians teach a variety of classes, including a new Introduction to Data Management class open to the campus community.
Social Sciences Research Center: Librarians with specialties in social science and digital scholarship collaborated with the Social Sciences Research Center and others throughout campus this summer, creating a specialized Research Lifecycle workshop for undergraduates in the Summer Institute in Social Research Methods. Librarians provided workshops including Using the Library: What You Don't Know; Exploring Topics in Digital Scholarship; Digital Archives; and Fundamentals of Project Management/Organizing Your Materials.
Specialized Point-of-Need Services: Librarians provide point-of-need services to faculty and students in a wide range of fields and locations, such as medical students on clinical rounds at the hospital, law students preparing for interviews with prospective employers, and Chicago Booth faculty and students teaching and taking business and economics courses in Hyde Park. D'Angelo Law Library staff also provide support for the Law School's 18 legal clinics that give law students hands-on experience addressing real-world legal issues in transactional, litigation, and law policy practice. Students and faculty are also able to schedule consultations with librarians for personalized in-depth research assistance. During the COVID-19 pandemic, when on-site services cannot be provided, in-depth research assistance continues to be provided using Zoom and other tools.
Data Support for the Social Sciences: Elizabeth Foster, Social Sciences Data Librarian, and Stacie Williams, Director of the Center for Digital Scholarship, developed a series entitled Data and Donuts to introduce data analysis and data cleaning tools including R, Open Refine and Tableau. This series provided critical data training on campus in support of research, teaching and learning, as well as offering participants donuts intentionally chosen from South Side bakeries with owners of color in a variety of neighborhoods, with the purpose of acquainting students with the broader South Side.
Career Advancement: Librarians provide a wide variety of career-related services, from the Graduate Career Development Resources Collection, to training career advisors at UChicago Grad in career research, to a business librarian being embedded in the Trott Business Program providing company and industry research instruction to all participants, working with the History Department on workshops and events designed to increase the marketability of PhD students.
Support for Fellowship Applicants: The Library is collaborating with UChicagoGRAD and the College Center for Research and Fellowships on programming and new services to support applicants for national fellowships (Fulbright, Truman, Mellon Mays, etc.), along with teaching students skills necessary for developing successful research proposals, including developing research plans and identifying archives and collections abroad. In addition, the Library is working together with the CCRF on the Student to Scholar Program.
The Hanna Holborn Gray Graduate Student Fellowships: With support from President Emeritus Gray the Library provides UChicago graduate students opportunities to expand their professional horizons and enhance their development as scholars. Fellows learn about careers in academic libraries and archives through hands-on work conducted under the mentorship of a UChicago librarian, while simultaneously pursuing their individual research and teaching interests. During the most recent academic year, eleven fellows each focused on distinct areas from digital scholarship and global information system mapping to archival work, web exhibits, and metadata.
TechBar and One Button Studio: A partnership between the Library and IT Services provides walk-up support for IT issues, equipment loans, and workshops in a joint training space on the first floor of Regenstein Library and an easy-to-use video studio that allows users to produce high quality video in two simple steps on the A Level. Both service points have been closed due to COVID-19, but the TechBar is offering online support, and we continue to coordinate with them as we plan to open some on-site services.
Exhibitions: The Hanna Holborn Gray Special Collections Research Center presents three or more gallery exhibitions a year, with associated web exhibits. Faculty, students, and alumni are among the guest curators for these exhibitions that engage the public in an exploration of scholarly subjects, illustrated by the Library's rare and unique materials and general collections. Additional exhibits in Regenstein curated by librarians explore topics of current interest and highlight strengths in the Library's collections.
GRAD Writing Room: A joint project of UChicagoGRAD and the Library, the GRAD writing room provides a quiet, dedicated writing space for graduate students working on dissertation proposals, dissertations, and fellowship applications.
3) Advance Digital Scholarship
Increase the University's scholarly impact by building spaces, services, and technologies that facilitate digital approaches to creating, analyzing, preserving, and openly sharing research.
Data Acquisition and Management: Librarians assist faculty in acquiring or creating text and data corpora to support their research, and support research grant applications by helping them address funder requirements for data management plans, for access policies, and for data deposit.
Technical Infrastructure for Faculty Research: The Library provides technical infrastructure for faculty research such as the OCHRE Data Service in the Oriental Institute, and the ARTFL Project (Project for American and French Research on the Treasury of the French Language).
Knowledge@UChicago: The Library leads an initiative with IT Services to maintain and expand a digital repository that preserves and shares the scholarly, creative, and administrative assets of the University. Knowledge@UChicago is now home to research articles, dissertations, and locally published journals and has begun to accept scholarly datasets to ensure that research is citable, reusable, and archived for the long-term. The Library is now developing processes that will allow researchers to automate their deposits into Knowledge@UChicago so that it can become an integral part of their research workflow. This repository saw an increase in deposits from departments across the university during the COVID-19 period. Some are part of a new collection available from Chicago Studies program, a certificate-granting program in the College where students write a thesis supported by a faculty advisor based on participatory research done with Chicagoland organizations. This work furthers the Library's and University's goals of increased community-building with our South Side neighborhoods and advanced knowledge production and dissemination of contemporary issues of race, economics, gender, sociology, and geography—the latter even more reproducible as more people are exposed to GIS services, which the Center for Digital Scholarship also provides.
Chicago Unbound: An online repository for scholarship by the Law School faculty was developed by the D'Angelo Law Library and the Law School's Communications Department and launched in 2014. It unites the record of scholarship produced at the Law School in one online platform, making it accessible to a world audience. Visitors have downloaded more than 7 million publications to date.
Center for Digital Scholarship: The Library's Center for Digital Scholarship provides services that facilitate the analysis of complex data, the visualization of theoretical and spatial relationships, and the sharing and preservation of research results. The Library has begun planning for a new space for the CDS on the first floor of Regenstein Library that will provide state-of-the-art technologies and support scholarly exploration and collaboration. During the COVID-19 period, CDS provided 17 digital scholarship consultations, ranging from grant collaborations on digitization-related projects; to collections-related job descriptions for faculty; using Omeka (digital exhibition tool) for class projects; digital preservation, data rescue, data management tool recommendations, and scholarly communications-related issues such as copyright and streaming video in online classrooms.
Digitization: This year the Library completed the digitization of the University of Chicago Convocation Programs (1893 – 2019), and continued work on several ongoing projects: the 2nd portion (16 volumes) of the University of Chicago Board of Trustees Minutes (1927 – 1942); and an additional 22 works for a total of 82 works digitized from Early Western Manuscripts (pre-1700).
4) Enhance Access to Scholarly Resources
Connect scholars with resources at the point of need by developing a user-centered, content-rich, integrated discovery environment and by providing fast and convenient access and delivery services.

Library Catalog: The Library provides a catalog that supports discovery of traditional library materials while also providing access to new services, such as Scan & Deliver. Innovative use of dynamic linking technologies allow us to enhance the catalog with links to external collections such as HathiTrust and enriched information such as tables of contents, so that patrons have a central hub for exploring the widest variety of resources available to them. Beginning in March, we enhanced the catalog with links to the HathiTrust Emergency Temporary Access Service content as well as records for temporary access to materials provided by a number of publishers in response to the pandemic.
Library Website: The Library's website provides streamlined access to search tools for articles, journals, and databases, and connects related collections, tools, and experts, making it easier for users to take advantage of the wealth of information and services offered by the Library. The Library's user experience librarian and web design specialists ensure that the Library website is designed to meet the needs of the faculty, students, and staff and that it meets current web accessibility standards in order to facilitate use by patrons with disabilities.
FOLIO: The Library is participating in a community-driven initiative to develop a next-generation, open-source library management system that will support our acquisitions, cataloging, and circulation operations. The project is remarkable for the breadth and depth of the partnership, including peer institutions, libraries and consortia from around the globe, and commercial library vendors.
5) Extend the University's Impact through Local and Global Engagement
Engage with local and global partners to extend the University's impact on pressing challenges in our city, nation, and the world.
HathiTrust: The UChicago Library participates in a partnership of more than 120 major research institutions and libraries working to ensure that the cultural record is preserved and accessible long into the future. The HathiTrust Digital Library, a digital preservation repository and highly functional access platform, provides long-term preservation and access services for public domain and in-copyright content from a variety of sources, including those digitized by Google, the Internet Archive, Microsoft, and in-house partner institution initiatives.
Ivy Plus Library Confederation's Web Archiving Program: The UChicago Library participates in this program, which archives copies of important and endangered websites from around the world. To date, 22 sites have been archived, covering topics and countries ranging from #MeToo and the women's rights movement in China to independent news sites on Turkish affairs.
Chicago Collections: The UChicago Library is a major partner with other universities, libraries, and museums in the creation of an online portal, Explore Chicago Collections, which documents the rich history and culture of the Chicago region and facilitates access to archival collections about Chicago for both researchers and the general public. UChicago Special Collections holdings on the site include 356 finding aids and 1078 images.
The Black Metropolis Research Consortium (BMRC): The BMRC is a Chicago-based membership association of libraries, universities, and other archival institutions that documents and makes accessible collections relating to African American and African diasporic culture, history, and politics, with a specific focus on materials relating to Chicago. UChicago serves as the current host institution of the BMRC with the Library providing oversight of the staff and technical infrastructure for the collaboration. The BMRC hosts visiting scholars and manages an internship program that provides students experience in the archival profession. In 2019 the BMRC received a grant from the Andrew W. Mellon Foundation to develop its Collections Portal, which provides access to the archival collections of its member institutions, and to create a community outreach program to educate future donors and archivists about the importance of collecting, preserving, and documenting Black experiences in Chicago.
Robert L. Platzman Memorial Fellowships: Since 2006, the Library has awarded 153 fellowships to visiting researchers from the U.S., Britain, Germany, Canada, Mexico, Guatemala, Spain, and Russia to support work on projects that require on-site consultation of Library archives, manuscripts, or printed materials.
The Library has arranged access and/or borrowing privileges for local educators connected with the Civic Knowledge Project, for students enrolled in the international baccalaureate program at the Hyde Park Academy, for teachers and AP students at Kenwood Academy, for La Rabida Children's Hospital researchers, for public school students sponsored by the Office of Civic Engagement, for teachers and selected students at the Orthogenic School, for artists connected with the Washington Park Arts Incubator, and for teachers and students connected with the UChicago Charter Woodlawn campus. These services are temporarily on hold due to COVID-19.
6) Excel in a Changing Environment
Build an agile, creative, and inclusive organization that values diversity and encourages experimentation, collaboration, bold thinking, and cultural competence in order to meet the needs of the ever-changing academic environment.
Collections Partnerships: The Library is identifying and building local, regional, national, and international partnerships that strengthen its ability to deliver comprehensive collections and innovative and effective services. Currently, the Library participates in two consortial borrowing programs: UBorrow for material in the collections of the Big 10 Academic Alliance university libraries; and BorrowDirect for material in the collections of the Ivy League, MIT, Johns Hopkins, Duke, and Stanford university libraries. The Library is leveraging its membership in the Ivy Plus Confederation not only to obtain rapid access to the collections of the Ivy Plus libraries but also to promote efforts to collaboratively build collections that more effectively support the research endeavors of faculty and students in all the participating universities.
Polsky Exchange: Business and Economics librarians are providing research consultation services to entrepreneurs who are members of UChicago's Polsky Exchange, advising them on how to access the market, industry, and product research they need to develop their business plans. This includes learning to define a target market through consumer demographics and market research as well as define competition by helping to locate company information and industry analysis.
GIS Hub: The Library's GIS Hub, on the first floor of the renovated Crerar Library, intersects with the new Media Arts, Data, and Design Center. Eight workstations in the Hub offer GIS software, including QGIS, GeoDa, and ArcGIS. Large, high-resolution monitors allow detailed visualization work. Our GIS/Map Librarian supports faculty and students through consultations on gathering and exploring geospatial data, spatial literacy, and visualizing geographic information. She also offers workshops on using GIS data and getting started with the software.
Professional Development: Librarians pursue professional development opportunities that focus on critical skills and expertise needed today and in the future. Many of our librarians are building new skills through participation in the development of the new open-source library management system FOLIO and in resource sharing programs with the Big Ten Academic Alliance and Ivy Plus universities. They actively engaged in educational opportunities across the country on topics such as data management for librarians, instruction assessment, copyright, applying liaison skills to research data and digital literacy, inclusive pedagogy, the evolving nature of reference work, and ways of supporting faculty in teaching information literacy skills to students. In-house training sessions at the Library focused on a variety of topics, including anti-racism; reading, writing and publishing; social sciences data archive and training offerings available through ICPSR; and creating web-based library exhibitions using Wagtail. The Instruction and Outreach Steering Committee is conducting a peer observation program to improve teaching by librarians.
For more information about our new Strategic Directions and the strategies we will use to pursue them, visit https://www.lib.uchicago.edu/about/thelibrary/mission/.