2012-2013 Events

Censorship and Omnicensorship: Controlling the Text in Russia
by
Marianna Tax Choldin
Mortenson Distinguished Professor Emerita for International Library Programs
University of Illinois at Urbana-Champaign
Government control of expression has always been strong in the Russian empire and the Soviet Union, reaching new highs (or lows) during the Soviet period. In the last years of the Soviet Union and the first years of post-Soviet Russia, censorship seemed to disappear, but now there is no doubt that it is on the rise again. Professor Choldin has spent nearly 40 years studying censorship in the Russian empire and the Soviet Union. She will describe the themes and techniques of imperial and Soviet censorship, illustrating their similarities and differences, and will share with us some of her adventures while conducting her research.
Prior to our program, Julia Gardner, Head of Reader Services, Special Collections Research Center, will give a tour of
Recipes for Domesticity: Cookery, Household Management, and the Notion of Expertise
.
Register online here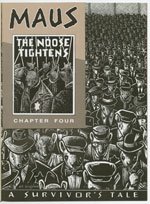 Forms and Formats of Autobiography
by
Hillary Chute
Neubauer Family Assistant Professor
Department of English
In "Forms and Formats of Autobiography," Hillary Chute will offer a brief history of different contemporary forms of autobiographical practice, from zine-making to autobiographical comics to photography and filmmaking. Right now, particularly, we see an explosion of all sorts of mixed-media autobiographies in print—even in an age when print is said to be waning. Professor Chute will assess the rise of formats like comics and zines to address the self, offering a history of their emergence, and suggesting how they conceptualize the self (as well as how they are taking their place in the academy).
Prior to our program, Sarah G. Wenzel, Bibliographer for Literatures of Europe & the Americas,will give a tour of the exhibit,
My Life Is an Open Book: D.I.Y. Autobiography
.
October 4, 2012
Opening for Transcending Tradition:
Jewish Mathematicians in German-Speaking Academic Culture Exhibition
 Click here for more details.


November 7, 2012
The University of Chicago's 'Archaic Mark' (ms 972):
A Remarkable Manuscript Treasure
or a Modern Day Counterfeit?


by Margaret M. Mitchell
Dean of the Divinity School and Shailer Mathews Professor of New Testament and Early Christian Literature
This autumn the Special Collections Research Center hosts a marvelous visiting collection of manuscripts and printed editions of the Bible held by libraries and universities in Switzerland (Swiss Treasures: From Biblical Papyrus and Parchment to Erasmus, Zwingli, Calvin, and Bart). In conjunction with that exhibit, Dean Mitchell will tell the Library Society the remarkable story of one of the University of Chicago's own biblical manuscripts in the Goodspeed Bible Collection, 'Archaic Mark,' and the team efforts required to determine once and for all whether this miniature codex is a valuable 14th century manuscript of the Gospel according to Mark -- or a clever modern counterfeit.