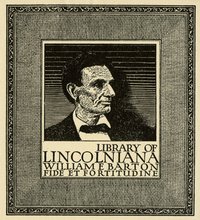 The William E. Barton Collection of Lincolniana (commonly known as the Lincoln Collection) was formed from the personal collection of Rev. William Eleazar Barton (1861-1930). Born in Illinois in the same year Lincoln assumed the presidency, Barton grew up in an environment heavily influenced by reverence for Lincoln. After graduating from Oberlin Theological Seminary in 1890, Barton served several parishes before becoming the pastor of the First Congregational Church of Oak Park, Illinois. Barton devoted the last decade of his life to Abraham Lincoln, publishing books and articles, delivering lectures, and collecting books, manuscripts, prints, ephemera, and artifacts. Barton traveled widely in Kentucky, Indiana, and Illinois to visit Lincoln sites and acquaintances, and he also purchased historical materials amassed by other Lincoln collectors such as John E. Burton and Osborn H. Oldroyd. 
In 1932, at the urging of Professor William E. Dodd and other faculty members in the Department of History, the University of Chicago Library acquired the William E. Barton Collection of Lincolniana. The collection included thousands of historical books and documents associated with Lincoln and Lincoln studies; a signed broadside copy of the Emancipation Proclamation; letters of Lincoln and other figures of the Civil War era; Lincoln portraits, photographs, and paintings; and a large amount of ephemeral and artifactual material related to Lincoln, his parentage, Lincoln sites, and the Civil War.
This purchase formed the nucleus of the University of Library's holdings of books, manuscripts, and artifacts concerning the life and times of Abraham Lincoln. The Barton family also established an endowment fund that has enabled the University to expand and shape Barton's original 3,500 volume collection into a major resource for exploring the social, economic, and political history of the United States in the nineteenth-century.
Browse the Barton Collection of Lincolniana in the Library's catalog
In addition to our print holdings, the Hanna Holborn Gray Special Collections Research Center also holds a number of archival collections relating to the Lincoln Collection:
Past exhibits about the Lincoln Collection: