Circulating, Documenting, Anthologizing, Exhibiting – Happening, Fluxus, Actionism
These artists' books contain either proposals for projects and actions that can never be realized—like fantastic architectures or massive "concretifications"—or documents of performances that have taken place at festivals, in exhibitions, or even physically underground. In each case, the book assumes a kind of utopian function, standing in for an event that can never unfold, or for one that by definition cannot be captured as such by the media in which it is recalled. It is clear that the tension, if not the contradiction, between the "happening" and the book in which it is recorded is in fact integral to action- and performance-based art: from the start, performance art had to abandon any pretense of achieving "concrete presence," to recall Eugen Gomringer's phrase, and acknowledge instead a dialectic of the immediacy of performance and the mediation of its documentation. These artists' books, in other words, are not incidental to the performative practices of Fluxus and Actionism, but should rather be understood as integral to them.
24 Stunden, the book, ostensibly documents 24 Stunden, the performance, in which an array of artists engaged in a series of provocative actions over the course of a full day and night. But the composition of the book, which includes realia from the performances as well as photographic documentation and textual scores, makes the distinction between the book and the performance difficult to draw. Rather, one could say, all of this – the performance, documentation, circulation, and this exhibition now – belongs to the (ongoing) work 24 Stunden.

With a similar gesture, Allan Kaprow's Assemblage, environments & happenings, which is ostensibly an anthology of international inter-media and action-based art, invites readers to "Step right in…" to its pages. It is as if the artist's book introduces a divergent temporality to the performance that makes the performance available, in a different way to be sure, to readers today.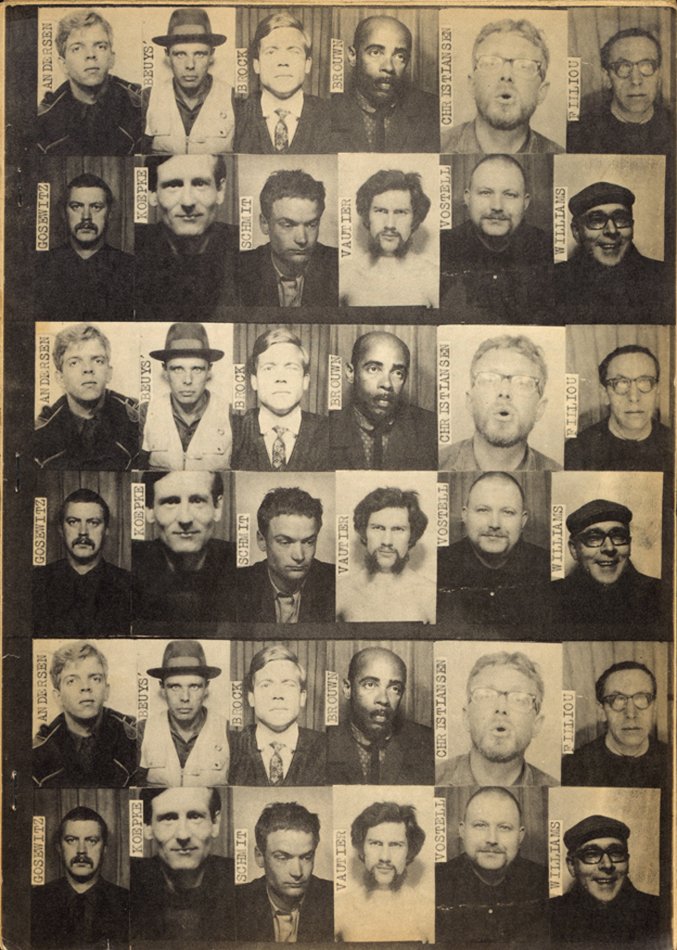 Actions, agit-prop, de-collage, happening, events, antiart, l'autrisme, art total, refluxus: Festival der neuen Kunst, 20. Juli 1964 Aachen […Festival of New Art, July 20th 1964, Aachen]
Tomas Schmit, editor (1943-2006), German
Wolf Vostell, editor (1932-1998), German
Mülheim: T. Schmit, 1964
Rare Book Collection